more convenient to Daily Check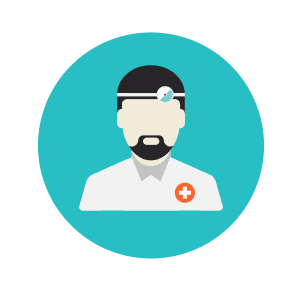 No need to go out to make an appointment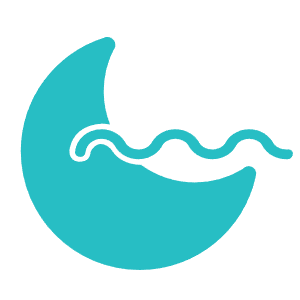 No need to worry about being anxious at night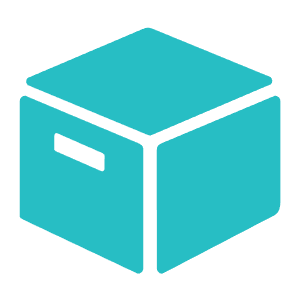 No longer bulky and hard to carry
"This has helped me a lot! Not only has it helped me check my oxygen level, but I am not as irritable and feel better overall. I can connect to the app and computer, and it's compatible with my Apple Health too, which I love!"
The Home Oxygen Monitor For Your Needs.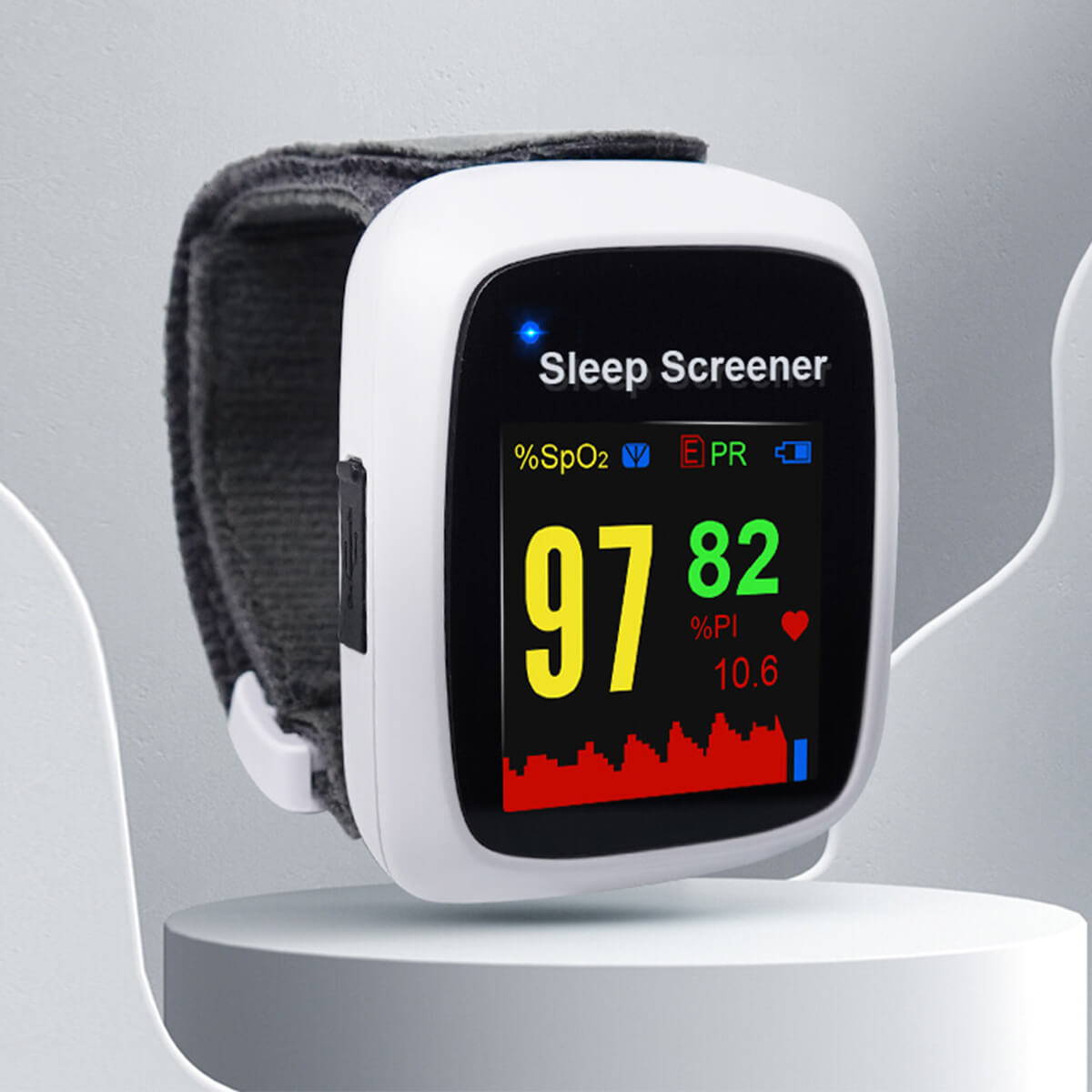 Advanced Tech For At-Home Checking
The easy-to-use, wearable oximeter can give a peace of mind in the daily activity.














Non-invasive Measurement: Wearable oxygen monitor can be used for measuring, displaying, and storing spo2(blood oxygen saturation), Pulse Rate(PR), PI(Perfusion Index), and can measure Snoring, Respiration Rate (an oral-nasal cannula is included in the packing list), Airflow (an air-flow module is included in the packing list).
Respiratory Rate Measurement: AP-20 pulse oximeter can be connected to an external snorkel to accurately measure respiratory rate, airflow, and snoring.
Portable & Easy to Use: Small and portable, wear it to get quick results.
Smart Reminder: Vibeat AP-20 wrist pulse oximeter has visible audio and vibration reminder function.
Free APP & PC: It supports Free App Download for Android and iOS devices with wireless Bluetooth connectivity. The app can show real-time SpO2, and pulse rate, get the record, and display results, and records.
Detail Record: The data management software allows users to manage, review and analyze the records in trends, graphs, and statistics.
Rechargeable Battery: 500mAh lithium battery, fully charged can last for more than 18 hours.
NOTE: This device is for General Wellness use only and not intended for medical use.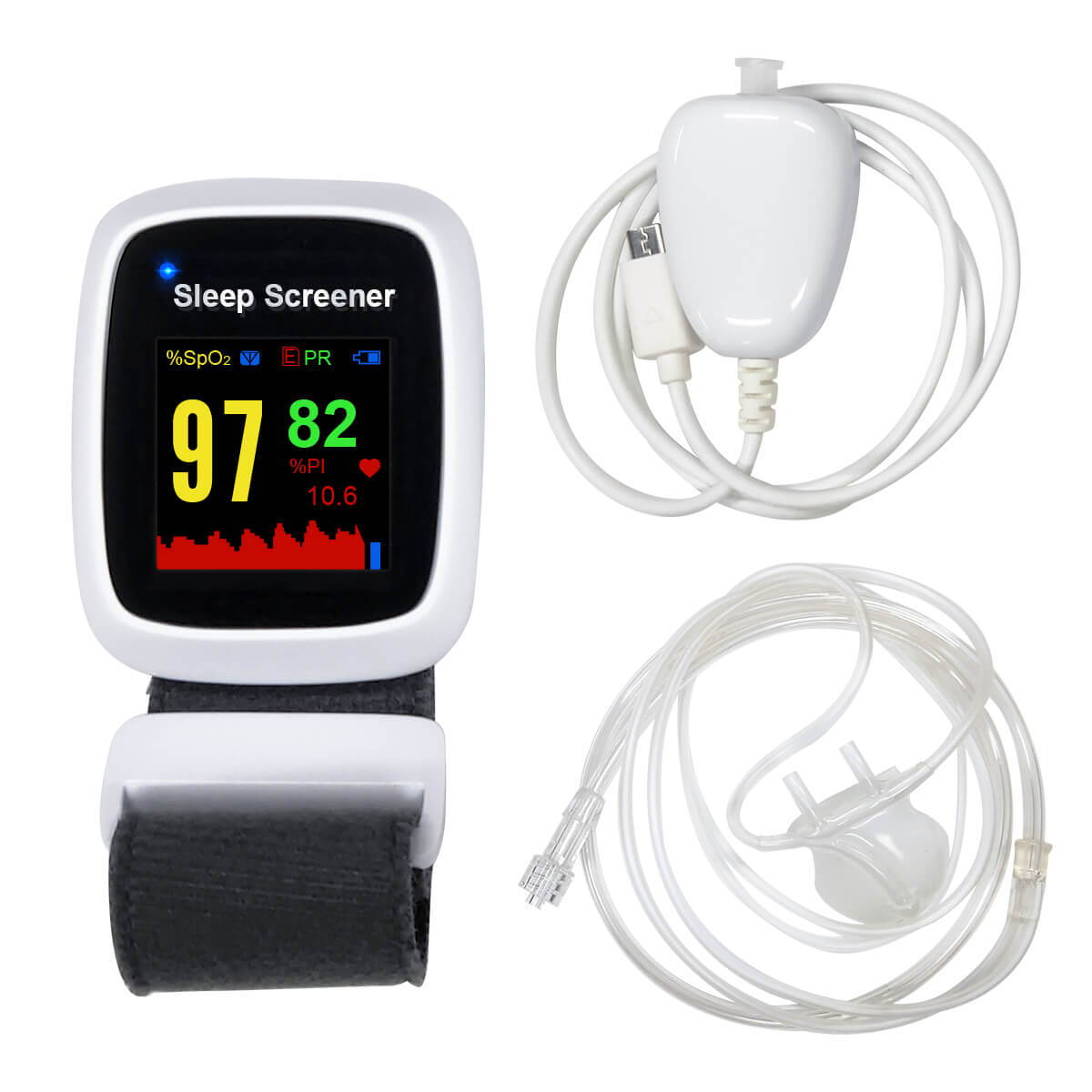 AP-20 device

SpO2 Probe



Air-flow module
Oral-nasal cannula
Wristband
AC Power adapter
Data cable
Keep your vital signs in hand
Real-time data dispaly on color OLED screen
● Blood oxygen level
● Pulse rate
● Perfusion index
● Body movement
● Oral-nasal air flow waveform
● Snore waveform
● Respiration rate
Oral-nasal air flow waveform
No subscription required, your privacy is our top priority. On the APP interface, you can see the real-time screen, record the data in detail, manage the data, and share it with your family and friends.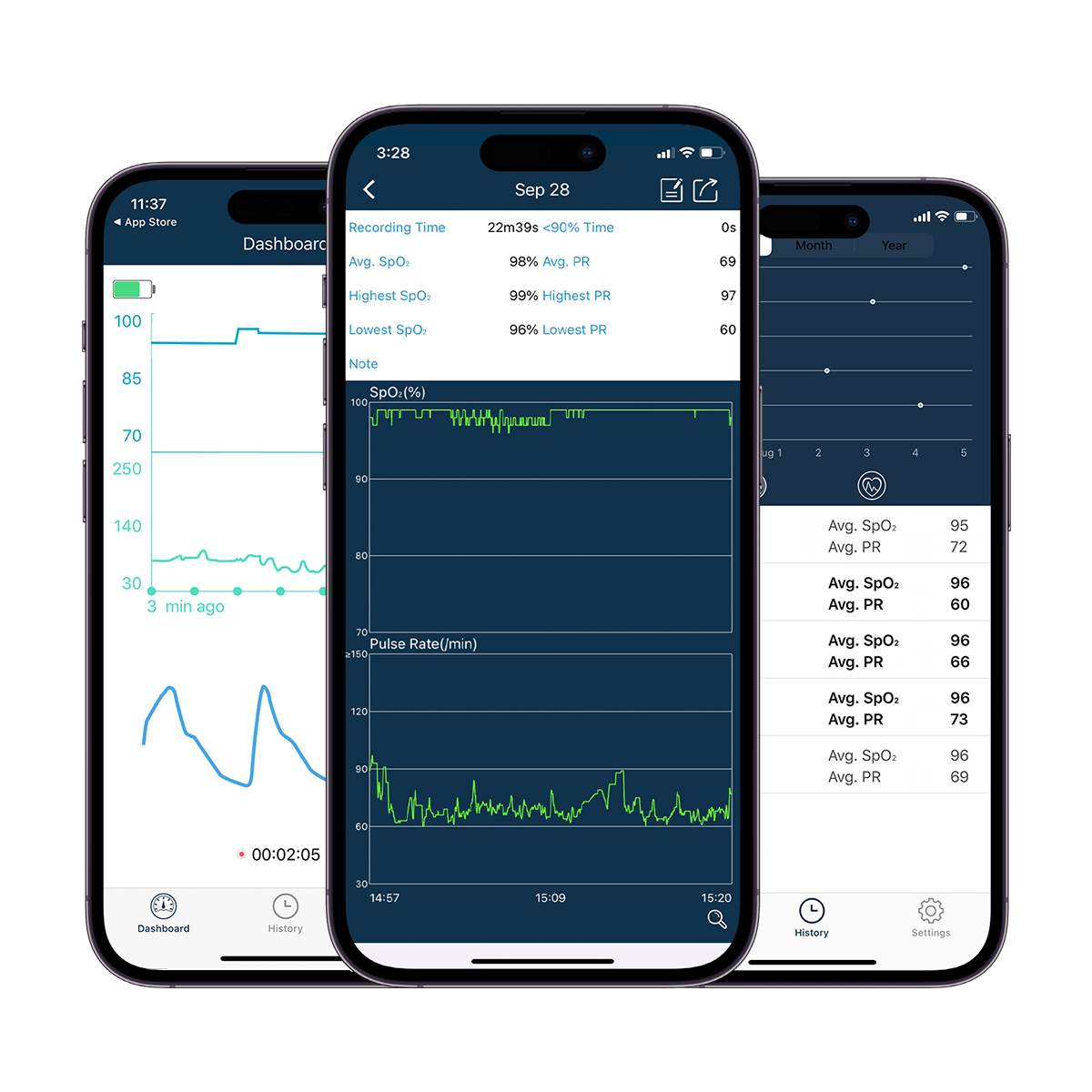 Free PC software provides graphic O2, PR record and trends of data. Your record shows the statistics of oxygen levels and pulse rates, making it an excellent reference for the home daily check study. You can easily print/email to share PDF/SCV format personal oximetry reports with AP-20.
Free PC software provides graphic O2, PR record and trends of data. Your record shows the statistics of oxygen levels and pulse rates, making it an excellent reference for the home daily check study. You can easily print/email to share PDF/SCV format personal oximetry reports with AP-20.
Follow the Steps Below to Measure
Easy to wear & Quickly get readings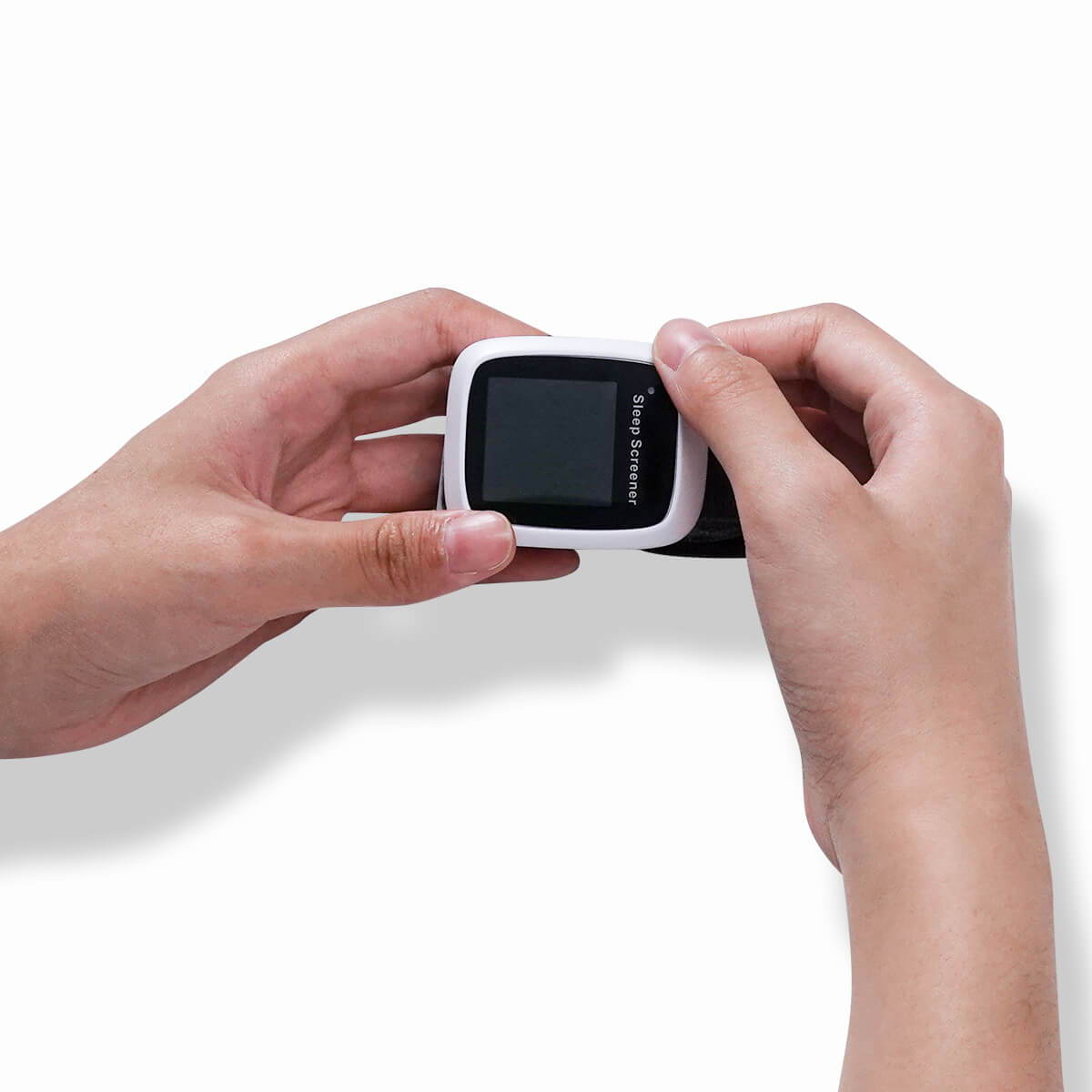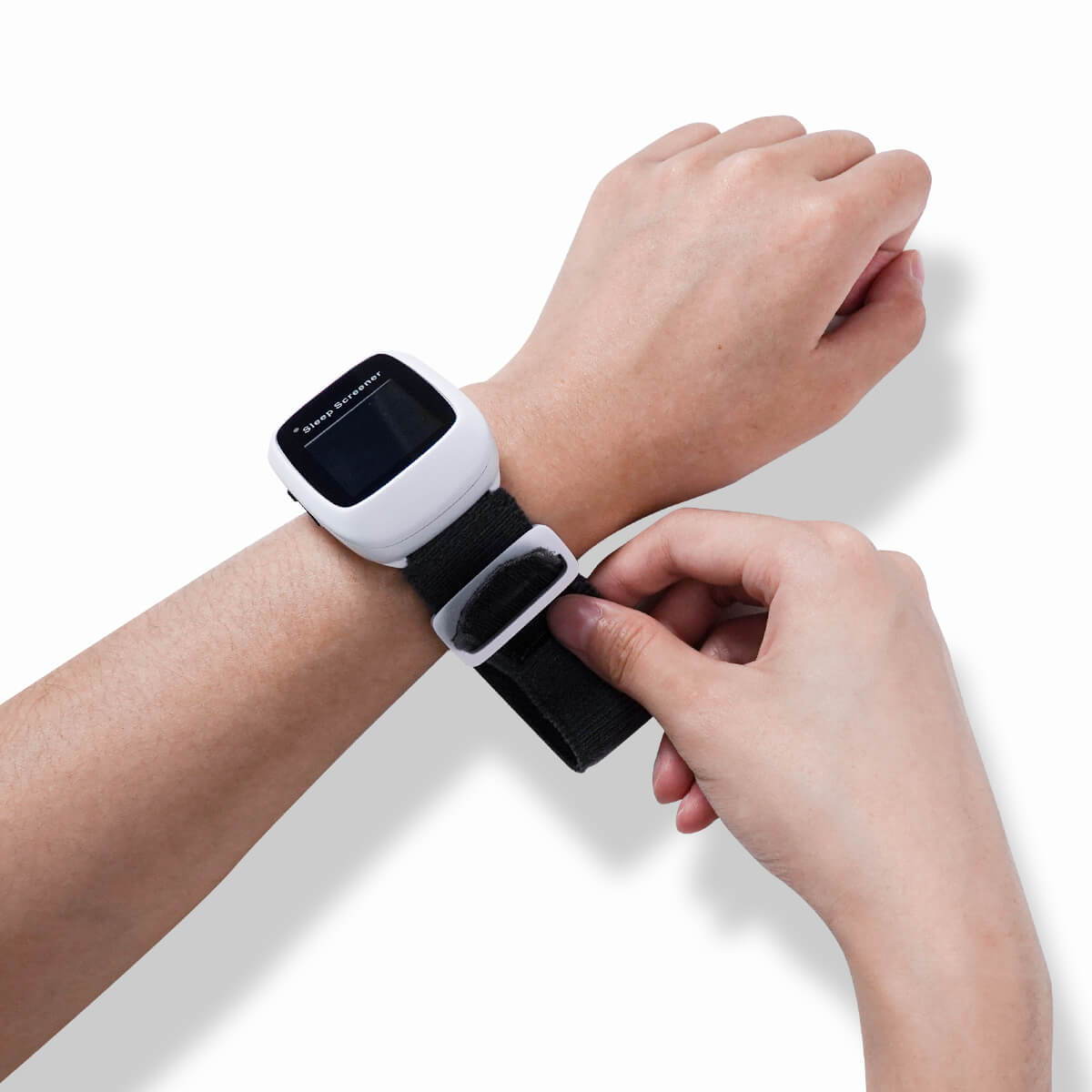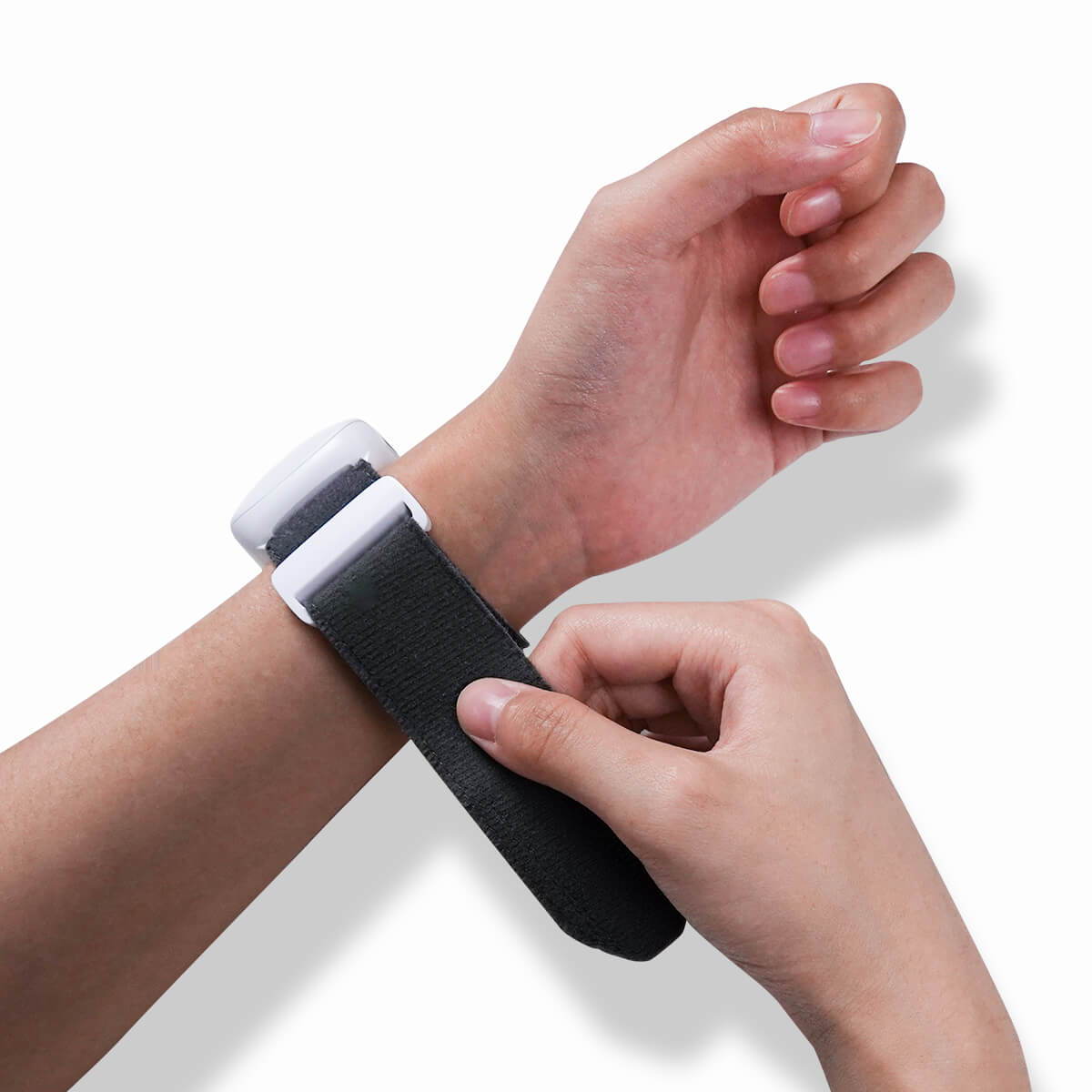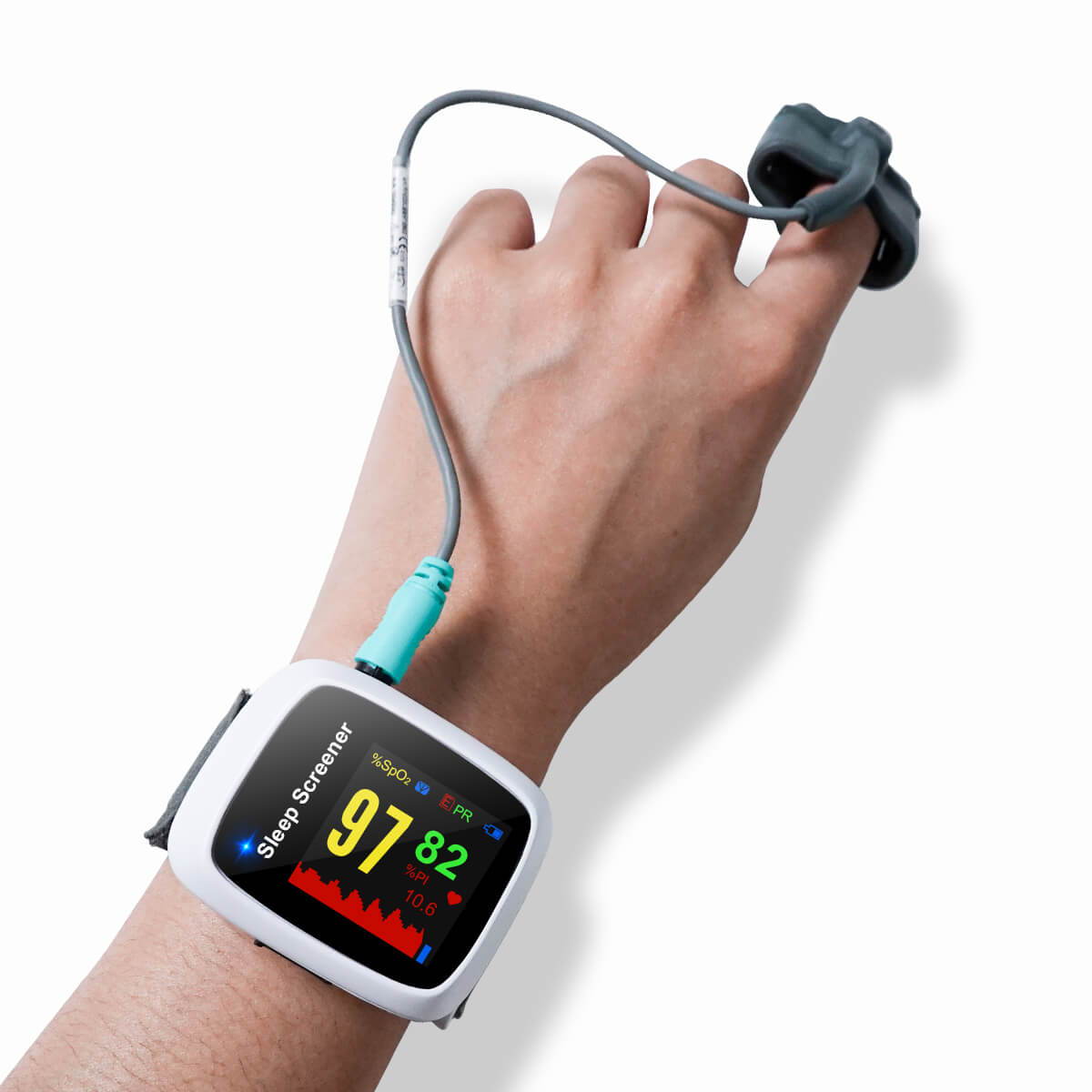 Climber、Aerial ropeway riders、People who have had surgery、Stressed workers、Snorers、Morning headache sufferers、Sportsmen, et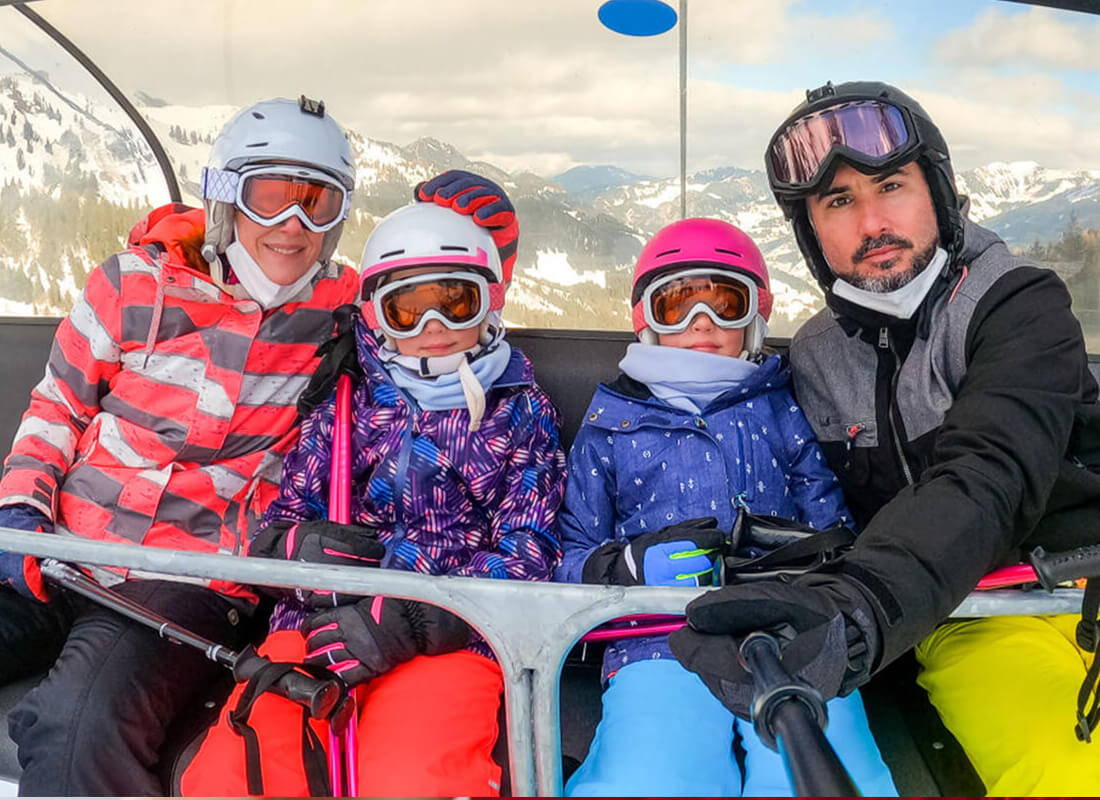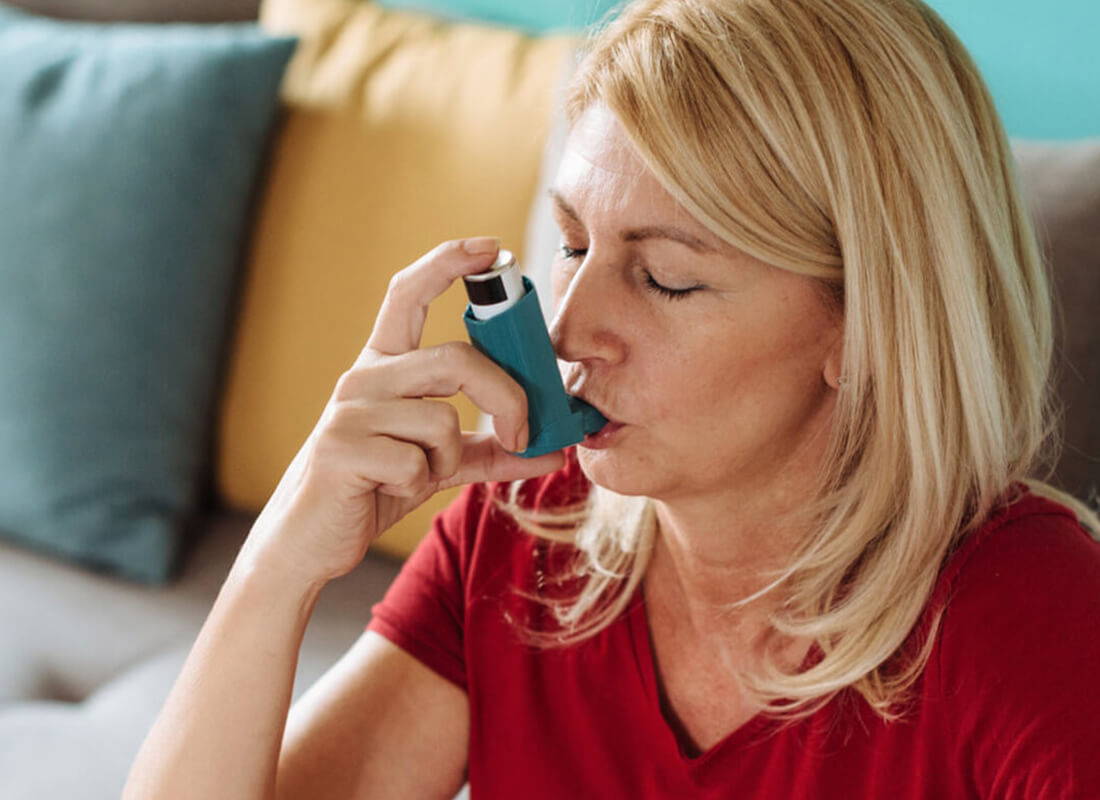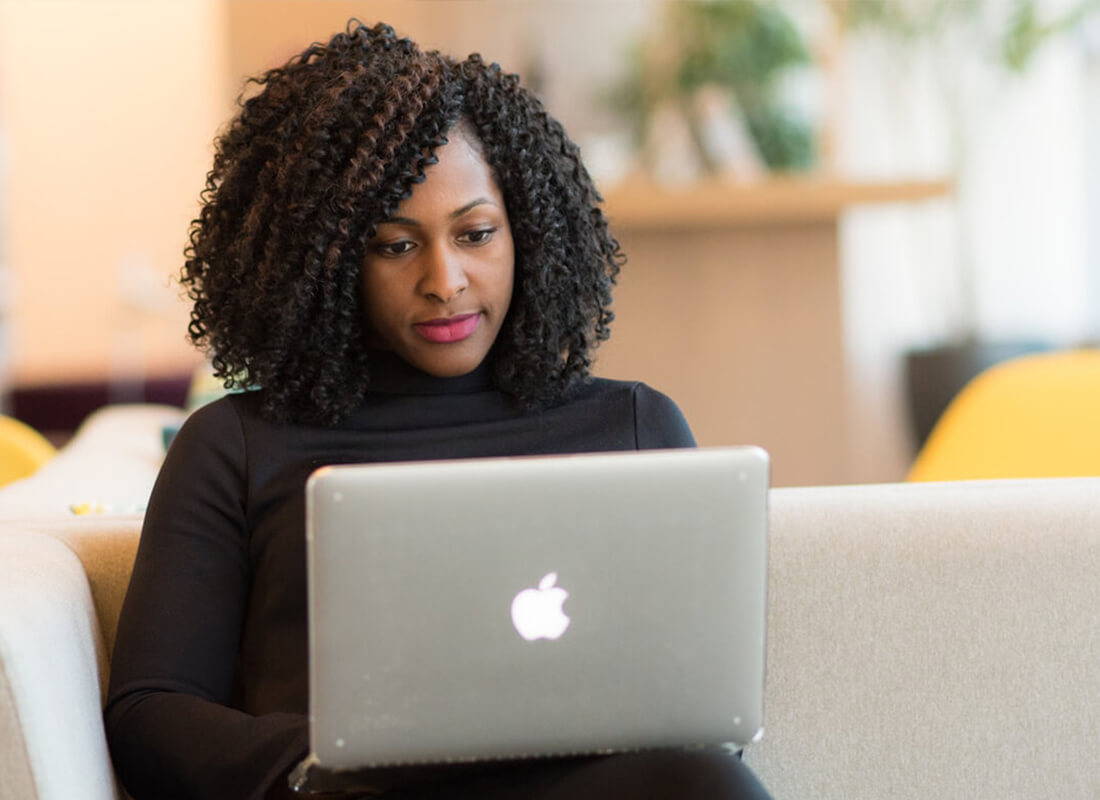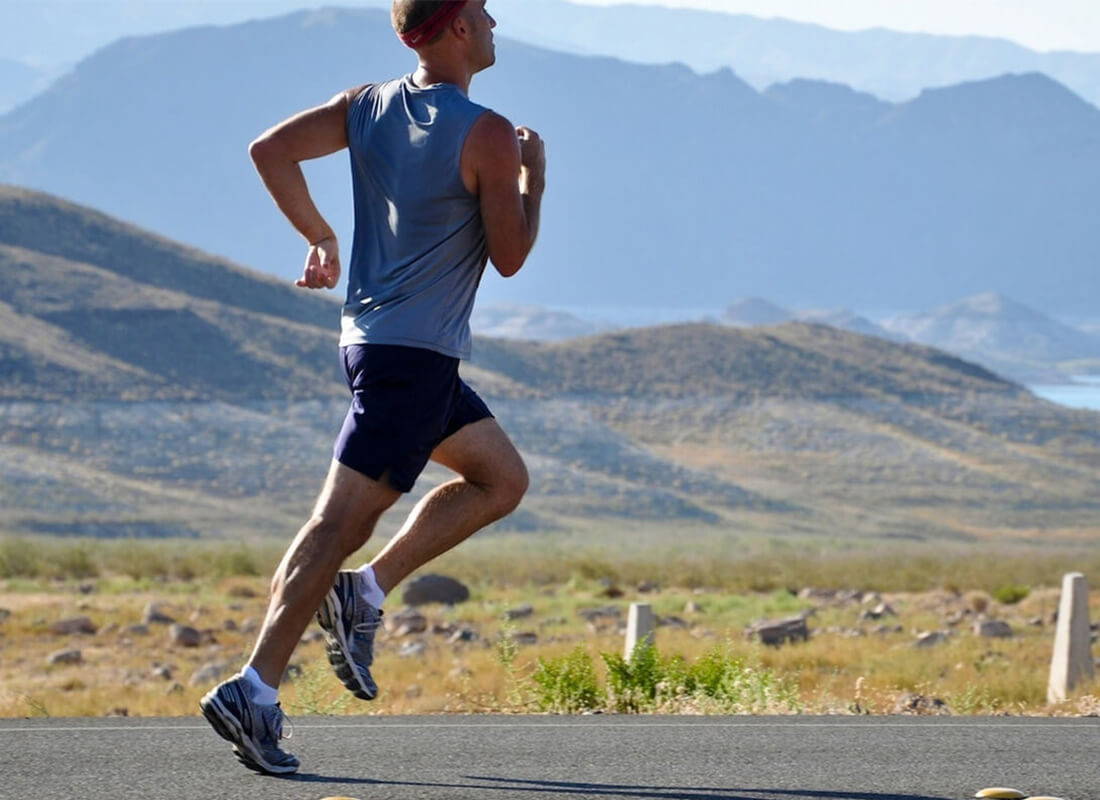 Display Mode: 1.44 inch color LED display
SpO2 measuring rage: 0-100%
SpO2 measuring accuracy: Not greater than 3% for SpO2 range from 70%-100%
Pulse Rate measuring range: 30bpm-250bpm
Pulse Rate measuring accuracy: ±2bpm
Perfusion Index Display range: 0.2%-20%
Respiration Rate range: 6-60rpm
Preset alert limits: SpO2 Low alert limit: 85%
Preset alert limits: PR high alert limit: 120bpm
Preset alert limits: PR low alert limit: 50bpm
Respiration Rate accuracy: ±2rpm
Oral/nasal air flow waveform: sampling rate of 100Hz, data storage rate of 25Hz
Snore waveform: sampling rate of 1000Hz, data storage rate of 25Hz
Power Supply: Built-in lithium battery: 3.70V/500mAh
Dimensions: D 56mm*W 44mm*H 16mm
Continues working time: about 13 hours
Bluetooth frequency band: 2.4GHz
Bluetooth working profile: BLE V4.0
Frequently Asked Questions
O2 Score is a measure of oxygen shortage during whole sleep. It combines frequency, duration, and depth of oxygen drops. A higher score means oxygen is richer. If it's yellow or red, please ask your doctor for advice.
Do I need to pair Bluetooth?
DO NOT PAIR in the system settings of your phone. Make sure the Bluetooth is enabled on your phone and device's battery is not out.
Why I can't connect device with App after updating iOS system software?
If you can't connect your device after updating iOS, please try the following steps:
1)In the system settings, turn off and turn on Bluetooth;
2)In the Control Center, tap the Bluetooth icon repeatedly to re-enable Bluetooth.
Turn on device, run App to connect it.
How do I track my logistics?
Copy your order number and paste your query on this website>>https://www.17track.net/en
VBeat 20
I used the device once so far. It works very well. I am disappointed with printed user manual. There is no mention about the App or how to download Data. Can you suggest how I can get it done. Electrical charger is not suitable to be used in USA. There is no mention anywhere about ordering additional nasal tubing or a different oxymeter probe.
Easy to use
The device was easy to set up and use. I had no trouble figuring out the settings. Connecting to the computer was easy. The data files pop right up and I can move them to the computer just by dragging them to the folder I wanted to keep them in. The included program was very easy to use, and the reports were amazing. By far the most information I have seen, and the way it highlights key areas makes it easy to scan the whole nights data.
I really like the screen, and how I can monitor the data in real time. The display is large and clear, and I can read it even when I am half asleep and squinting.
I highly recommend this product!
A unique tool that generates detailed reports to share with your doctor.
I was excited when Vibeat came out with the AP-20. I had Vibeat's finger pulse oximeter with app to monitor my sleep apnea (not that it would improve my apnea, but at least I was able to monitor it). When Vibeat announced its AP-20, I was excited because of its greater functionality. It is more like a home sleep study device, similar to the home sleep study device I was given by my doctor to see if I had sleep apnea (and unfortunately, I did). Thus, I wish to review the AP-20 for anyone wishing to self-diagnose potential sleep apnea. Even though EMAY does not identify this as a diagnostic device, it provides you with the appropriate information you can share with your doctor. You can also use it to monitor your oxygen levels and pulse during intense daily activities such as exercise or sports. I was quite pleased with the performance of the AP-20, and would recommend it to anyone interested in monitoring their oxygen levels, pulse and potential apnea events, during both sleep and intense daily activities such as exercise or sports.
Amazed by this monitor!!
I purchased this monitor for my husband, who snores and is very tired throughout the day and struggles to stay awake when driving sometimes. He wasn't too thrilled when I told him about it, but after some convincing, he was willing to try it. When it arrived and we saw how minimally invasive it was, that helped get him on board and try it out. First, the set up was super simple, took only a minute or two to read through the instructions and have the monitor set up and ready to use. Once hooked up, it only takes a second for your information to be read by the machine and display on the screen!! He did not find it uncomfortable at all and it didn't interrupt his sleeping. I couldn't wait to download the software and see the results!! Downloading the software and transferring the data took maybe 3 minutes! The report this software generates is actually amazing!! There is tons of information, graphs, and easy to understand analysis! I AM AMAZED!! This will give us a better understanding of whats going on, while avoiding large doctor bills!! I would highly recommend this product and this company Vibeat.
Easy to use
I bought this device since I have recently developed a snore. My husband wanted me to have a sleep study done. I bought this device to get an idea of what is going on first. This thing is super neat! After wearing the device overnight, I found all my numbers to be well within the normal range. I am impressed with the data output and how easy it was to get. The user manual is easy to follow, and I did not have any trouble setting up the device prior to going to sleep. The only problem I have found was that the nasal tube would not stay in my nose and when I would wake up I would have to "reinstall" it. This is a common issue even with professional sleep studies. Professional sleep studies will provide tape to tape the tubing to your cheeks so it will not move while you move.