Only sold in the US
【72Hrs Long-lasting Use】Checkme O2 Max records your O2 level (blood O2 saturation level), pulse rate, and motion with extremely accuracy. 72 Hours continuous tracking will let you feel more peace of mind after one full charge.
【Free APP & Software for Android, iOS】The "Vihealth" App allow you to share data and trend easily and present data in real time. Please download "Vihealth" from Apple Store or Google Play. Real-time tracking records help you prevent unexpected situations.
【Warm Reminder】Vibrations occur when your blood oxygen levels and psyche are not within the threshold range.
【SpO2 Score】The app will record your data and generate a blood oxygen report for you. You will get an SpO2 Score at ViHealth App.
【Comfort Patented Ring Sensor】Soft silicone ring sensor won't make your finger numb and never slips from your finger, which completely frees your finger.
【Built-in Memory】O2 Max oxygen reader stores four groups of 10-hour data. When the device is connected to the APP via Bluetooth, the data will be uploaded automatically.
NOTE: This device is for General Wellness use only and not intended for medical use.
Free shipping on all orders

Shipping time:

2-4 Business days.

Shipping method:

USPS, DHL, UPS, and FedEx.
Money-back guarantee:

Dear customer, when you are dissatisfied with our products within 30 days after receiving the goods, we provide a return service, which requires you to pack and send all the items in the product to ensure that the product is the same as the one sent in the past.




1-year warranty:

Within one year of using this product, if any quality problems caused by non-human factors occur, we will provide return and exchange services.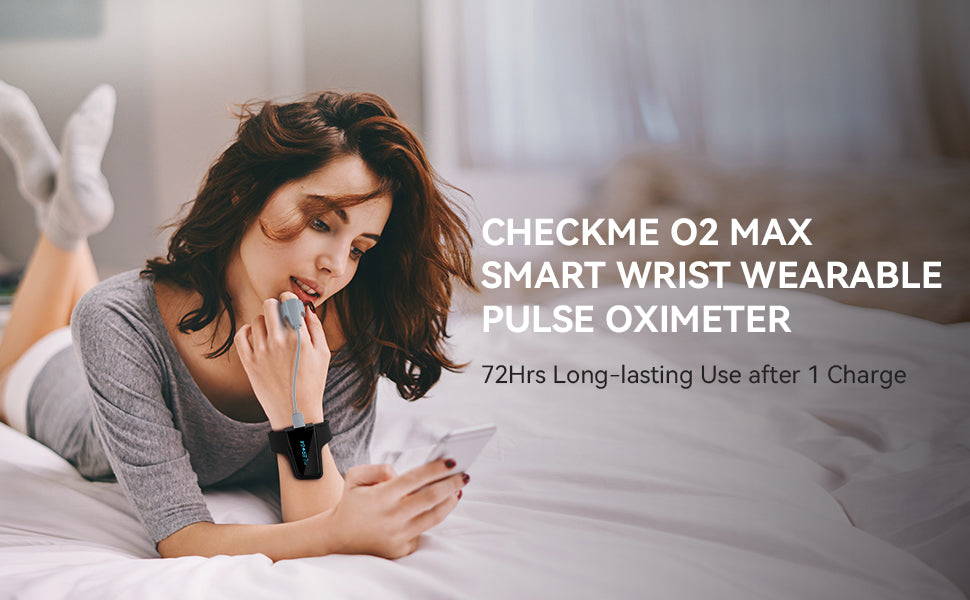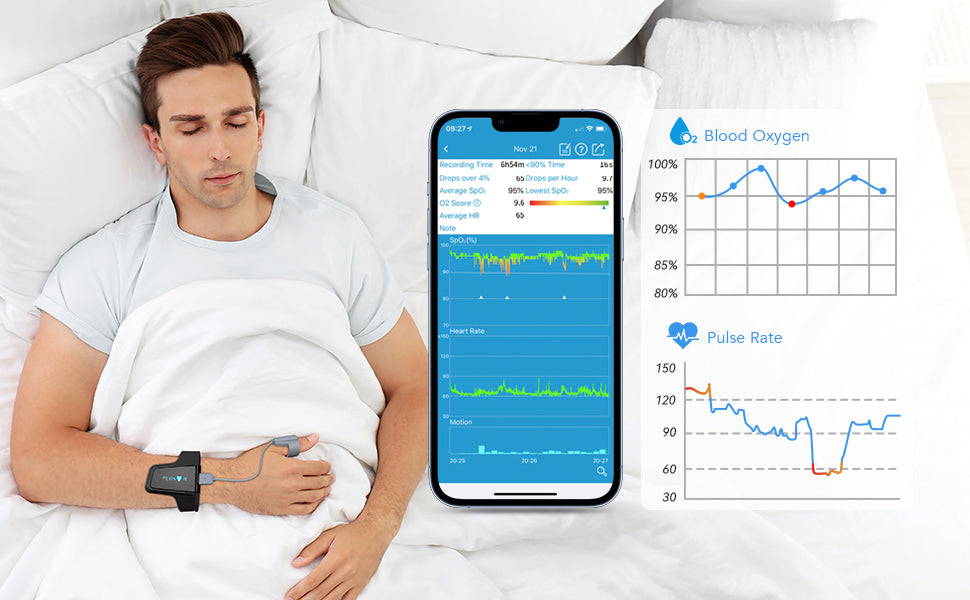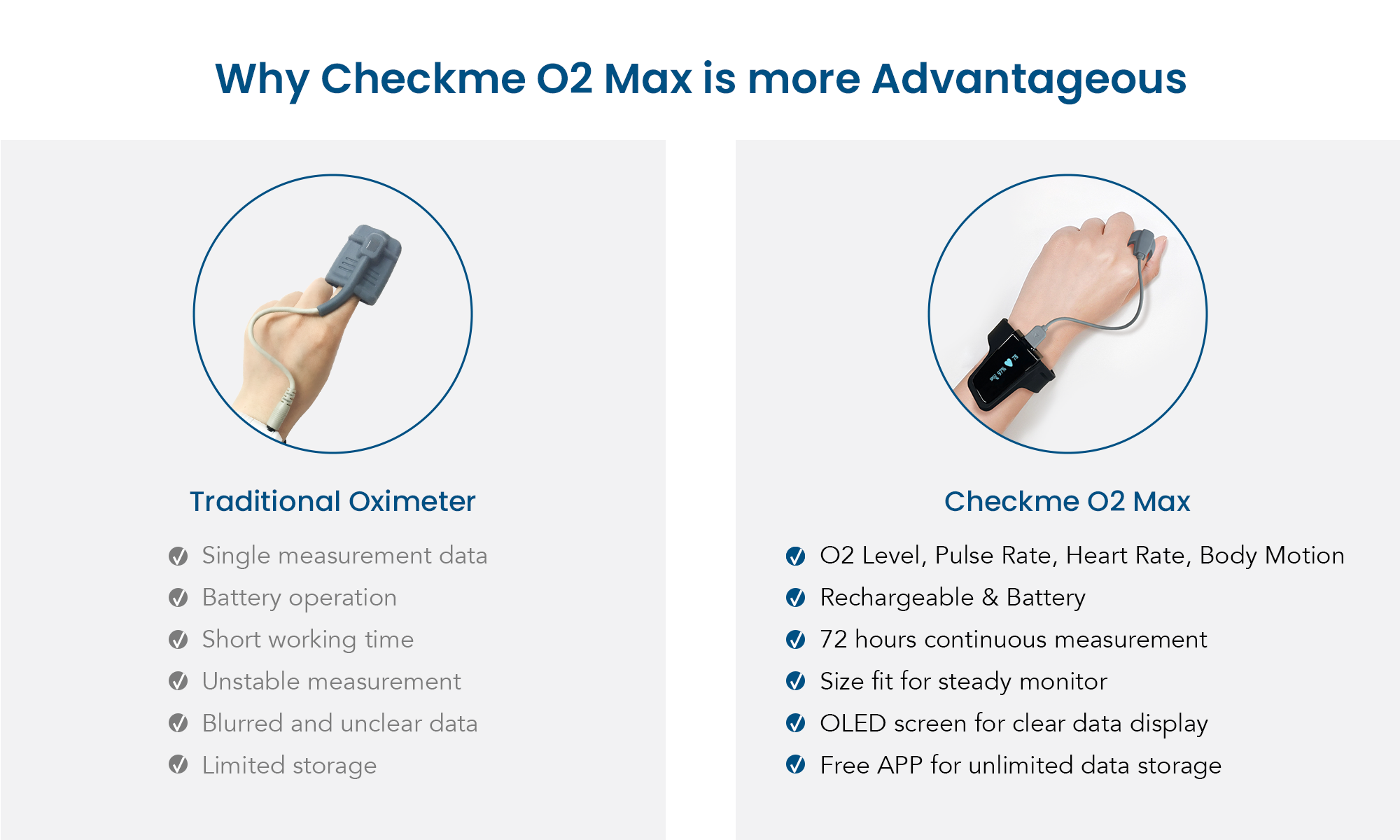 Continuously Tracking Your Oxygen Level
Checkme O2 Max Oxygen Reader will automatically track your SpO2, heart rate and body motion continuously. A full charge can be used for 72 hours can help you to do overnight tracking.
Greater Peace of Mind with Powerful Functions
Threshold Setting
The notification threshold can be set by yourself through the ViHealth. Our product will feed the most realistic data.
Vibrating
When your blood oxygen and heart rate are not within the threshold range, both the product and the app will notify you via vibration.
Real-time Tracking
When you wear it to sleep, the product will automatically track body indicators and the APP will do real-time tracking.
Intuitively Display Every Important Metrics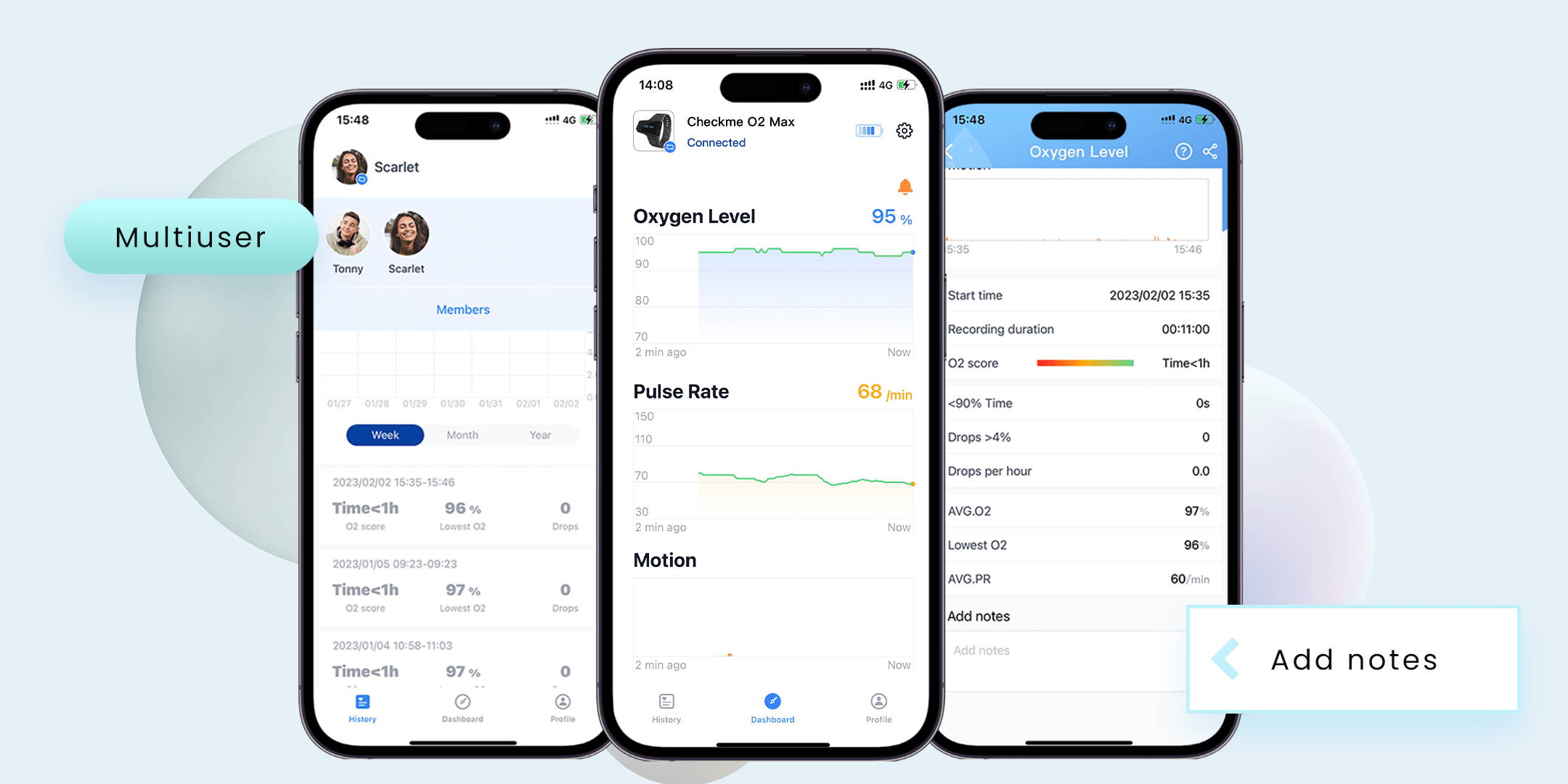 Unlimited Data
Save historical data to your phone unlimitedly at no additional cost.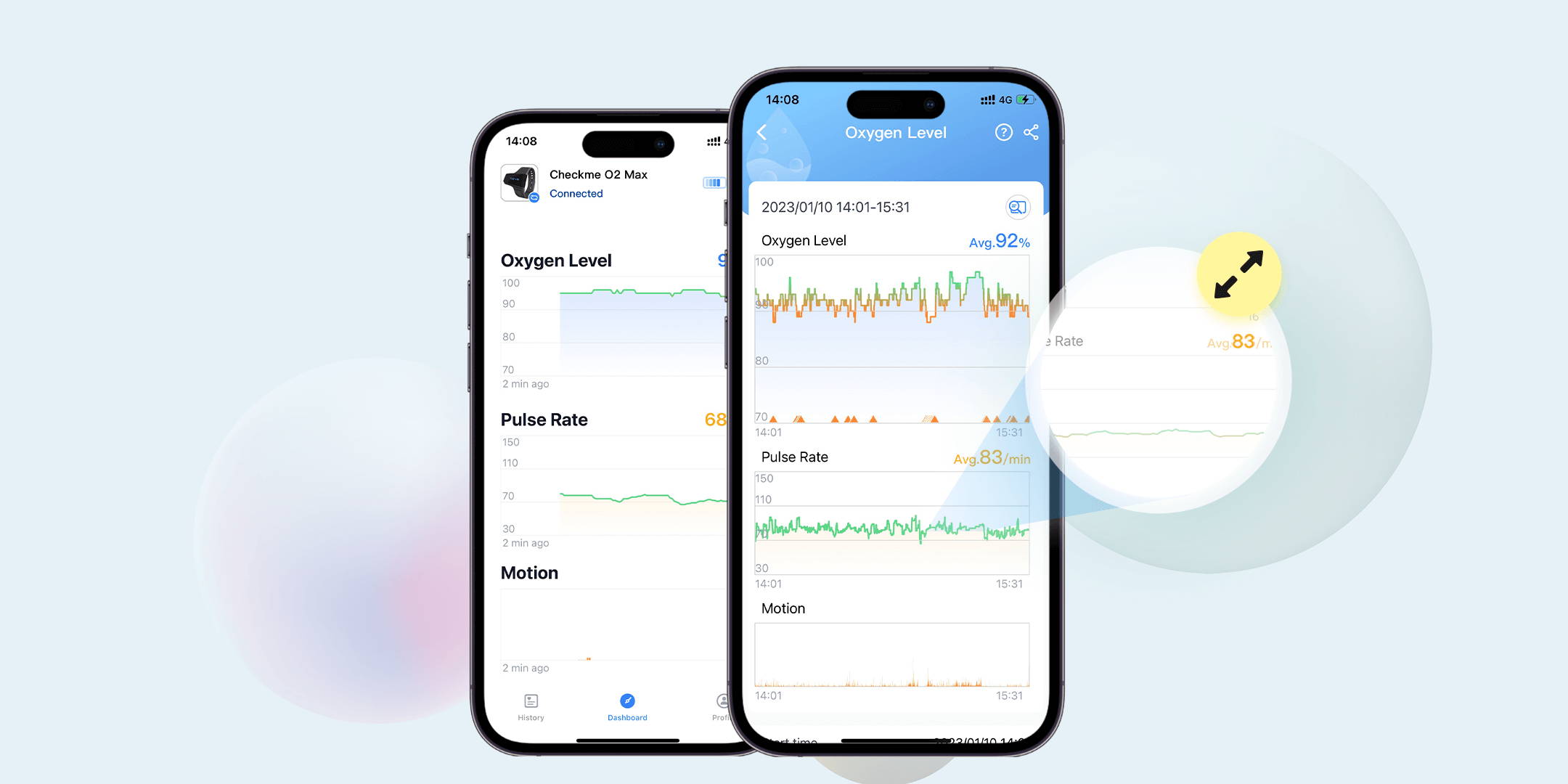 Check Data at Will
Zoom in/out chart to view exact info in 4-second intervals.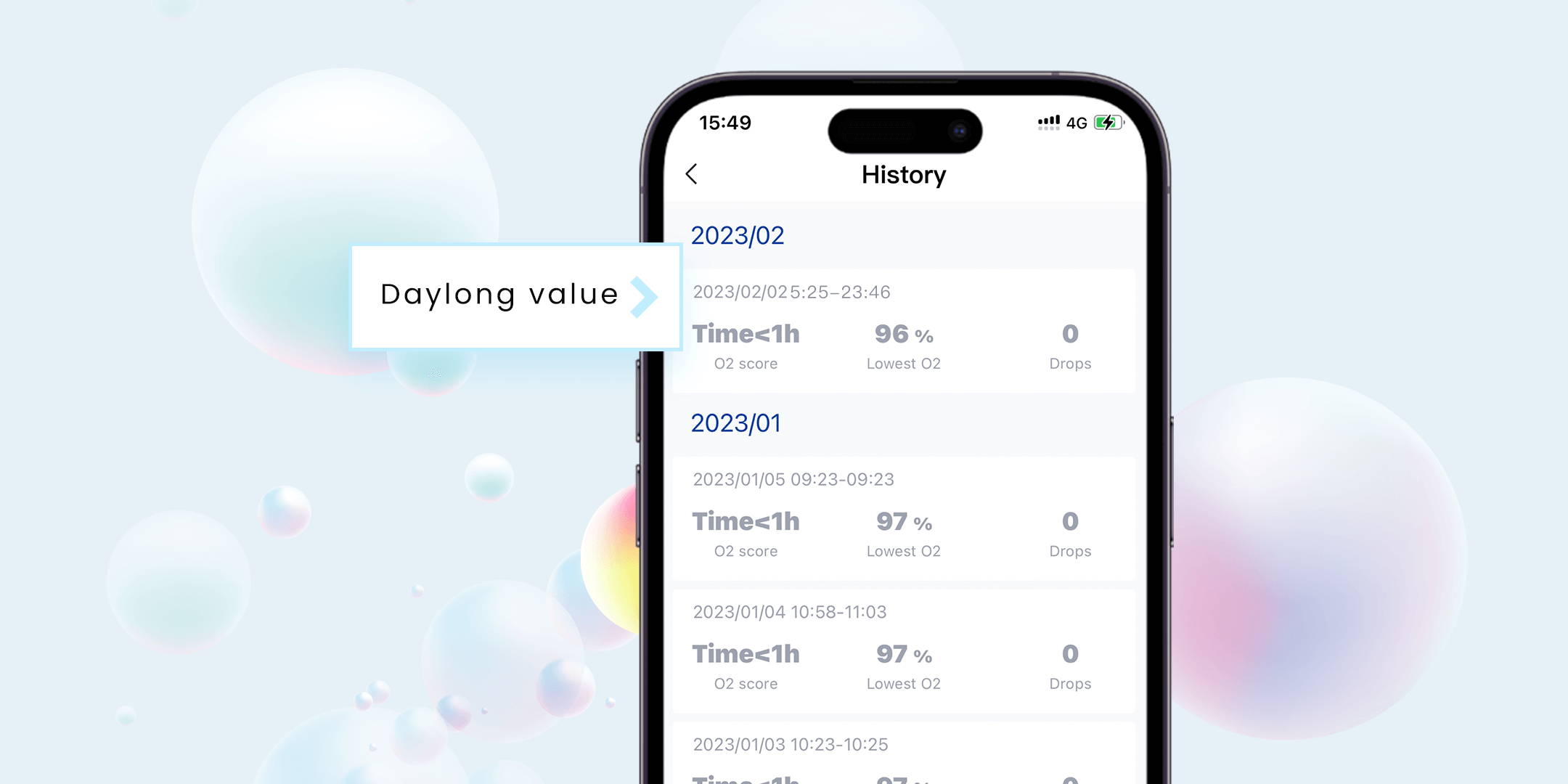 Free Report
Get detailed reports and trends of oxygen levels, heart rate and body movements throughout the day.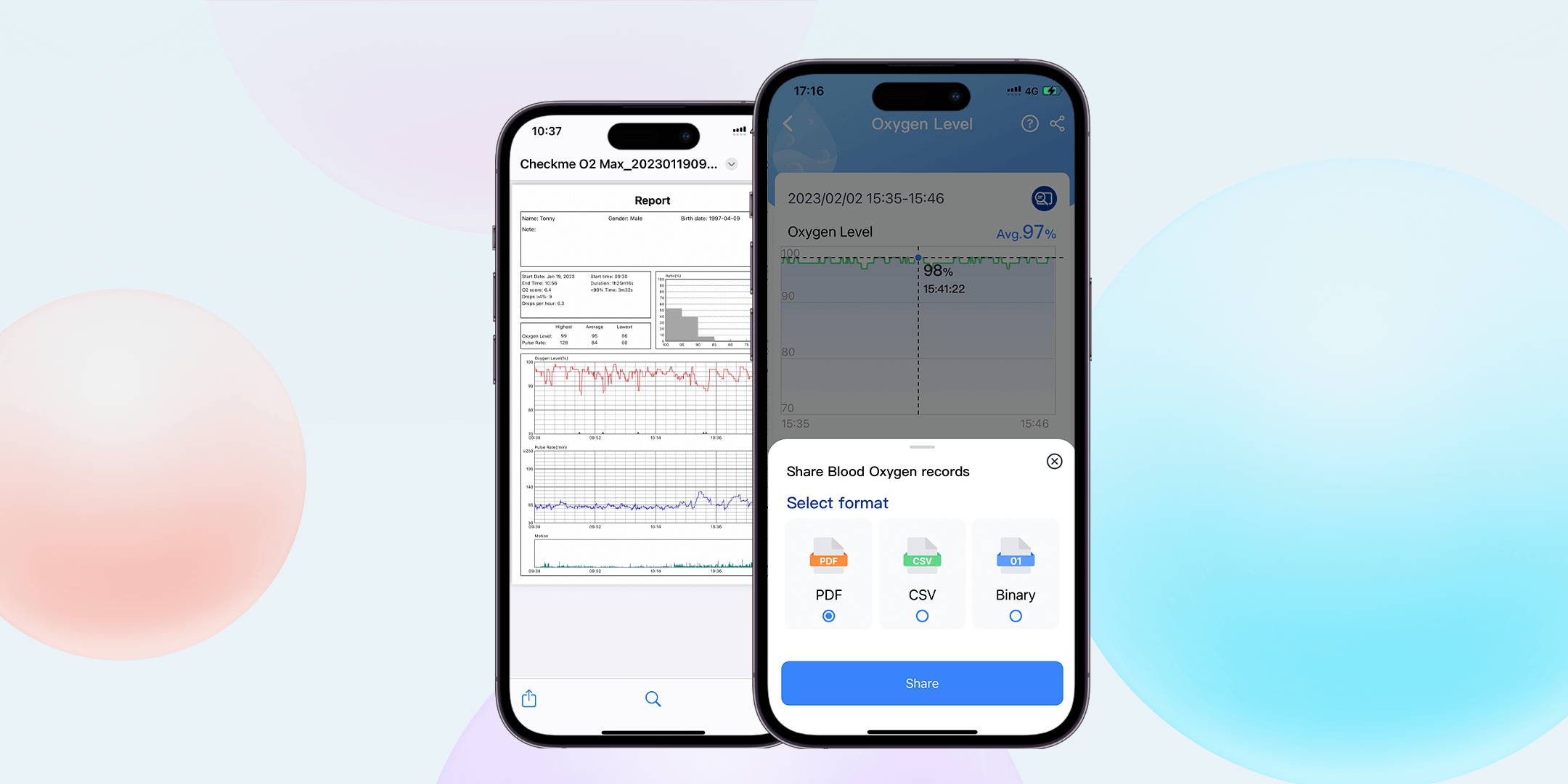 Share Report Freely
Share unlimited CSV records directly. Integration with Apple Health.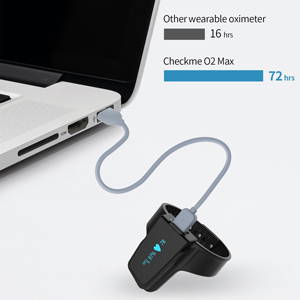 Check Data at Will
Zoom in/out chart to view exact info in 4-second intervals.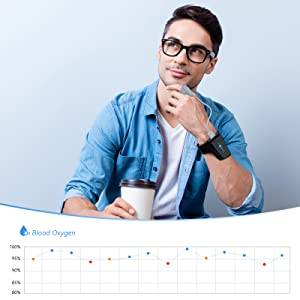 Built-in Memory
Work stand-alone, even without smartphone.
Device can store 4 sessions data, up to 10 hours for each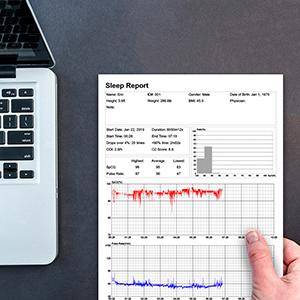 Detailed and Trusted records
Via free App. Export, print or share the PDF/CSV format O2 records unlimitedly.
Notice: The oldest will be overwritten by the 5th. Please sync data to your phone in time.
Accurate and informative
I bought this product to investigate our blood oxygenation levels overnight. Sleep apnea had been a concern here.It's comfortable, and none of us had an issue with wearing it all night.
The battery life was nice and I don't have to charge it every night.
I used the O2 Insight Pro software on my computer to view the results. I really love the detailed breakdown, showing the correlation between pulse rate and SpO2. I value having this data both to use at doctors' appointments, and for my own reference.
Well built, unobtrusive, and accurate
The wrist oximeter was easy to set up, I used both the phone app and the PC software. It doesn't get in the way when worn, and it's easy to forget you have it on.
Battery life is quite good, capable of several nights of sleep.
I like that the recorded data can be saved in both PDF and csv formats. The PC software also saves data in Viatom format, which can be directly imported into CPAP software like Oscar, allowing all CPAP, HR, and oxygen data to be associated in a single graph.
I've compared the readings with a couple of other SpO2 monitors of known good accuracy, this device is also accurate.
Peace of mind
I continue to love the accuracy and convenience of this pulse oximeter is comfortable and brings me peace of mind