Why you need a oxyU oximeter
Easy to use, real-time o2 level and pulse rate measurements can be taken at home.
Get multiple real-time detailed data records without spending a lot of money
Wearing comfort, using skin-friendly materials, so you can wear without feeling it.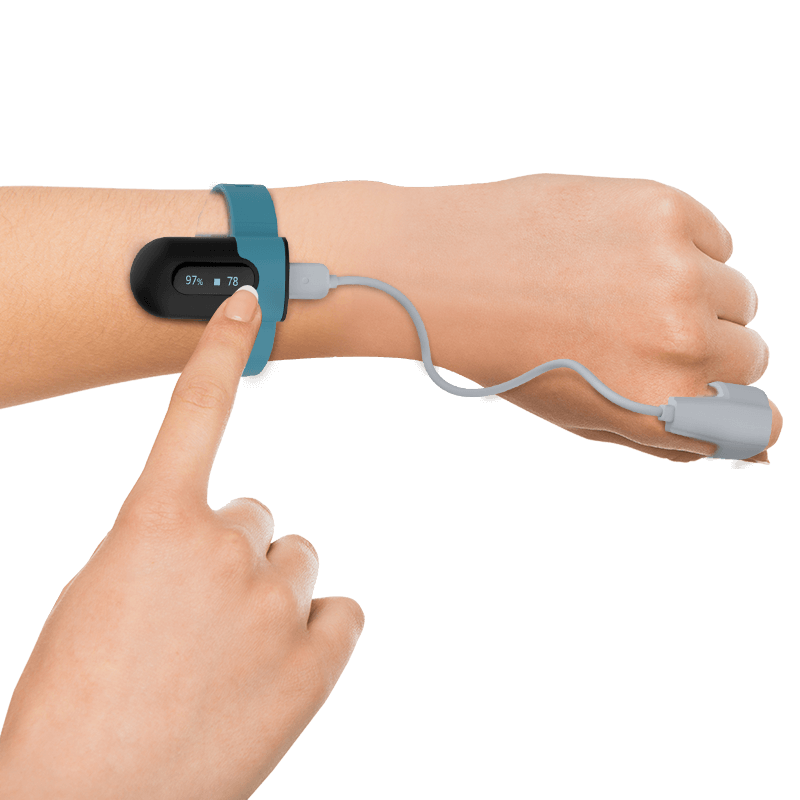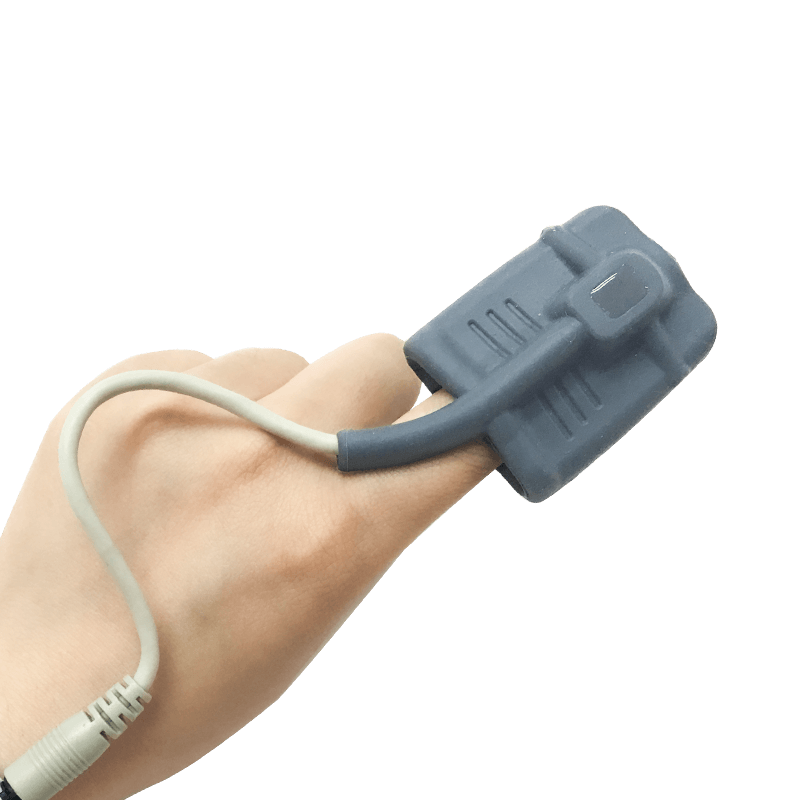 Never slip from your finger

Completely free your finger
Traditional Duckbill Sensor

The finger can not move freely
The Bluetooth Oxygen Monitor For Daily Checking.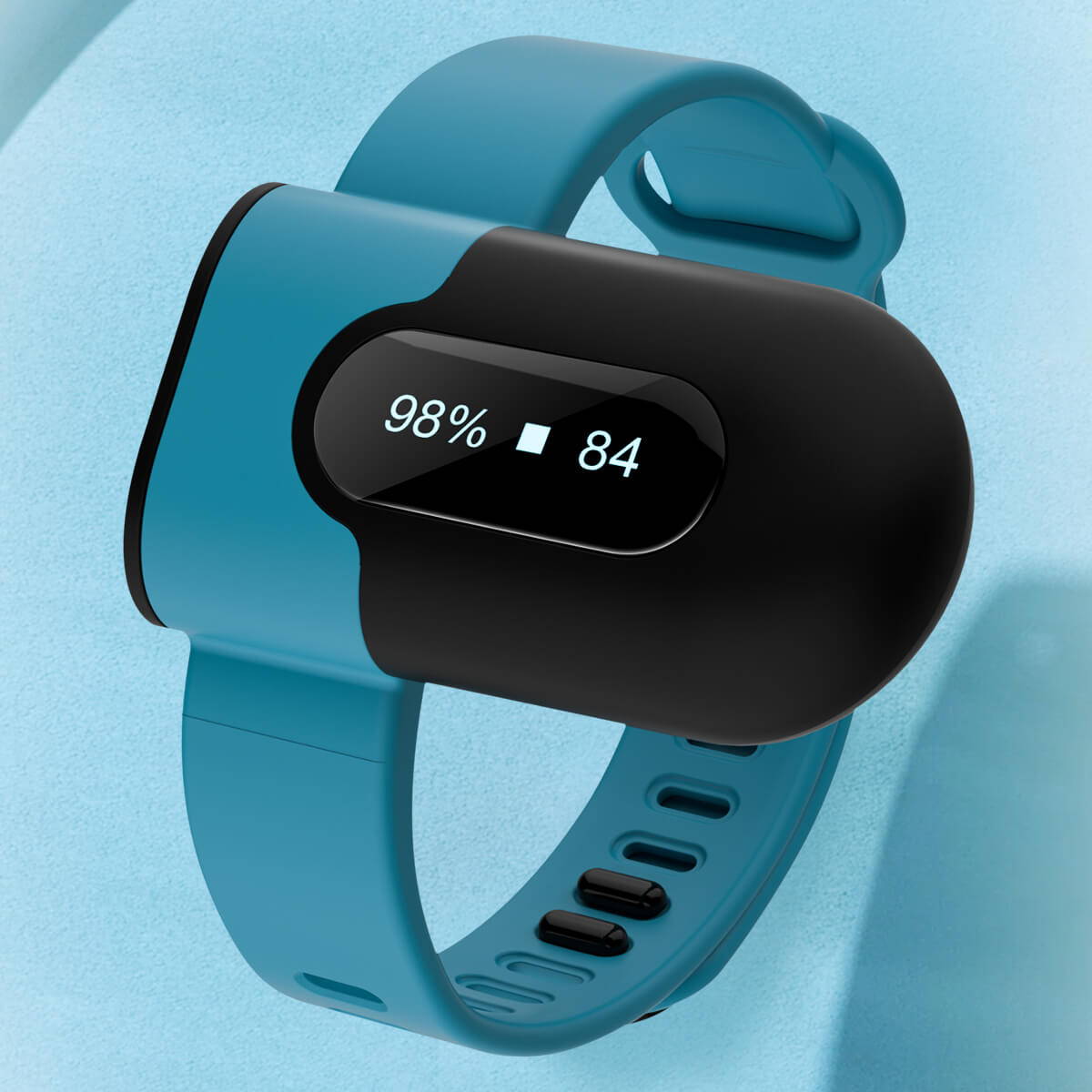 Advanced Tech For Continuous Checking
Wrist oximeter with built-in anti-interference technology for more accurate readings.














Accurate and reliable: Specially designed for continuous tracking of your oxygen level, pulse rate, and body motion all day, it will collect data every 4 seconds.
Feel free to output records: Data can be transferred to smartphone and PC software for more detailed information. It supports managing historical data and sharing JPG or CSV records with others.
Rechargeable: Long battery life. It can be used for up to 12-16 hours after being fully charged. Tips: OxyU adapts to Micro D Charging cable.
Built-in memory: OxyU O2 monitor stores 4 groups of data, each group can up to 10 hours. The data is automatically synchronized to the APP via Bluetooth, and the APP can store unlimited groups of data.
Free your fingers: The patented comfortable silicone ring sensor, is light and replaceable, and will not easily slip off your fingers.
Easy to use: The OxyU runs automatically when you wear it, even the elderly can easily get started.
NOTE: This device is for General Wellness use only and not intended for medical use.
OxyU device

A spo2 probe

A data cable
A user manual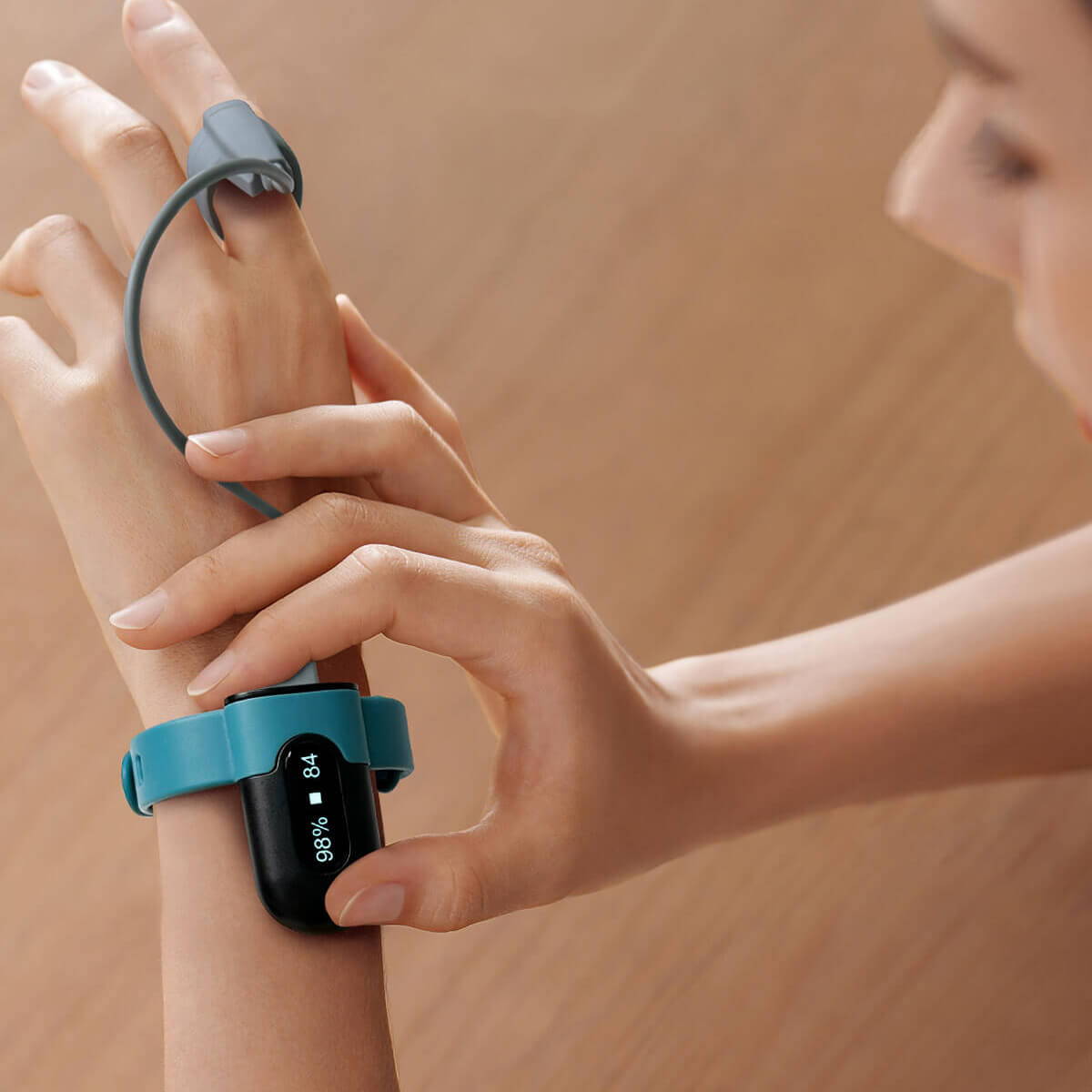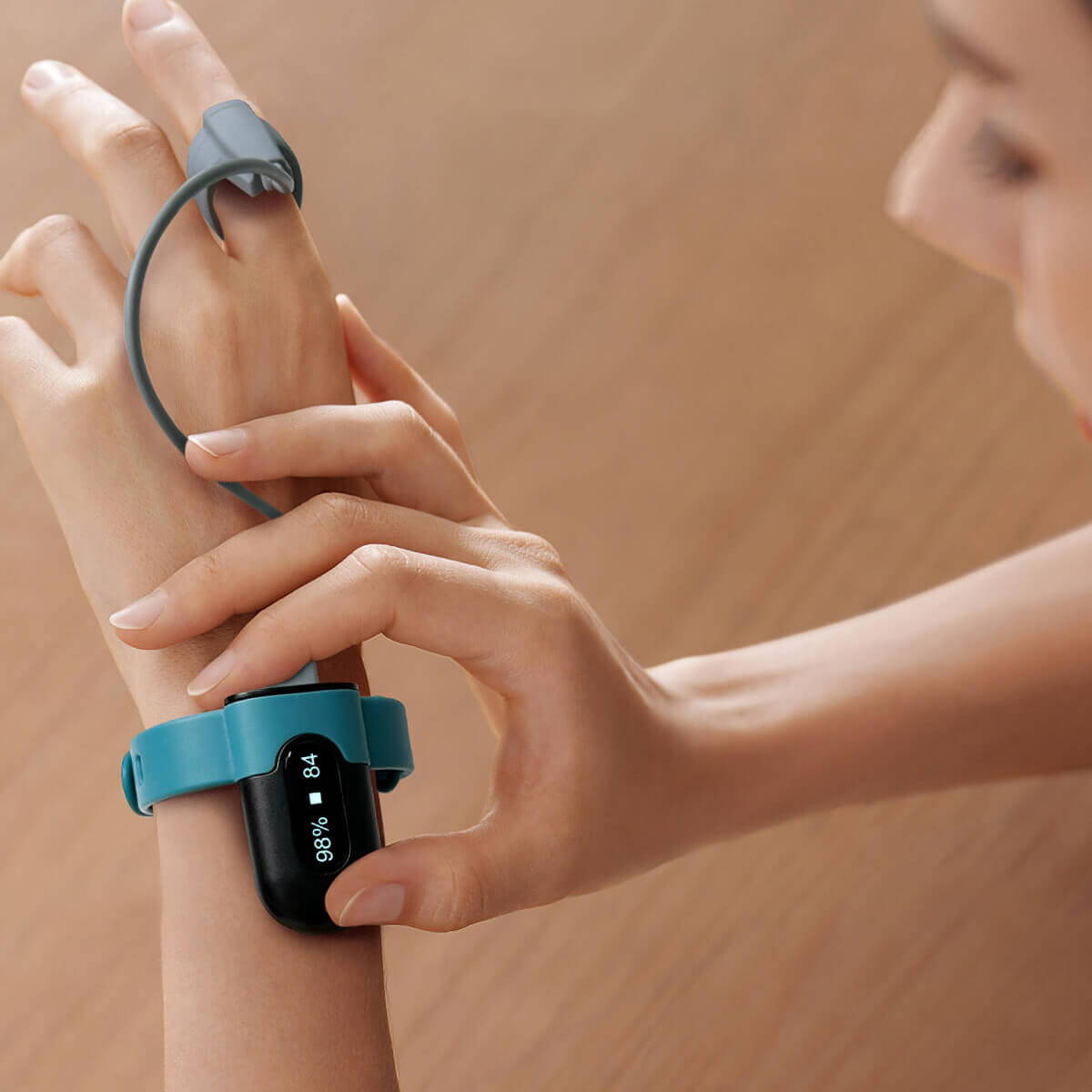 Wearable oxygen monitor for daily track with free APP
Built-in storage of 4*10 groups of data
No need to keep Bluetooth on to record data, the device can store 4 * 10 groups of data built-in, very convenient as well as user-friendly design.
It can be monitored continuously for 16 hours, with an automatic power saving mode that automatically turns the device off when you are not using it.
It has a patented design appearance and is made of silicone, which can be very comfortable when you wear it for a long time.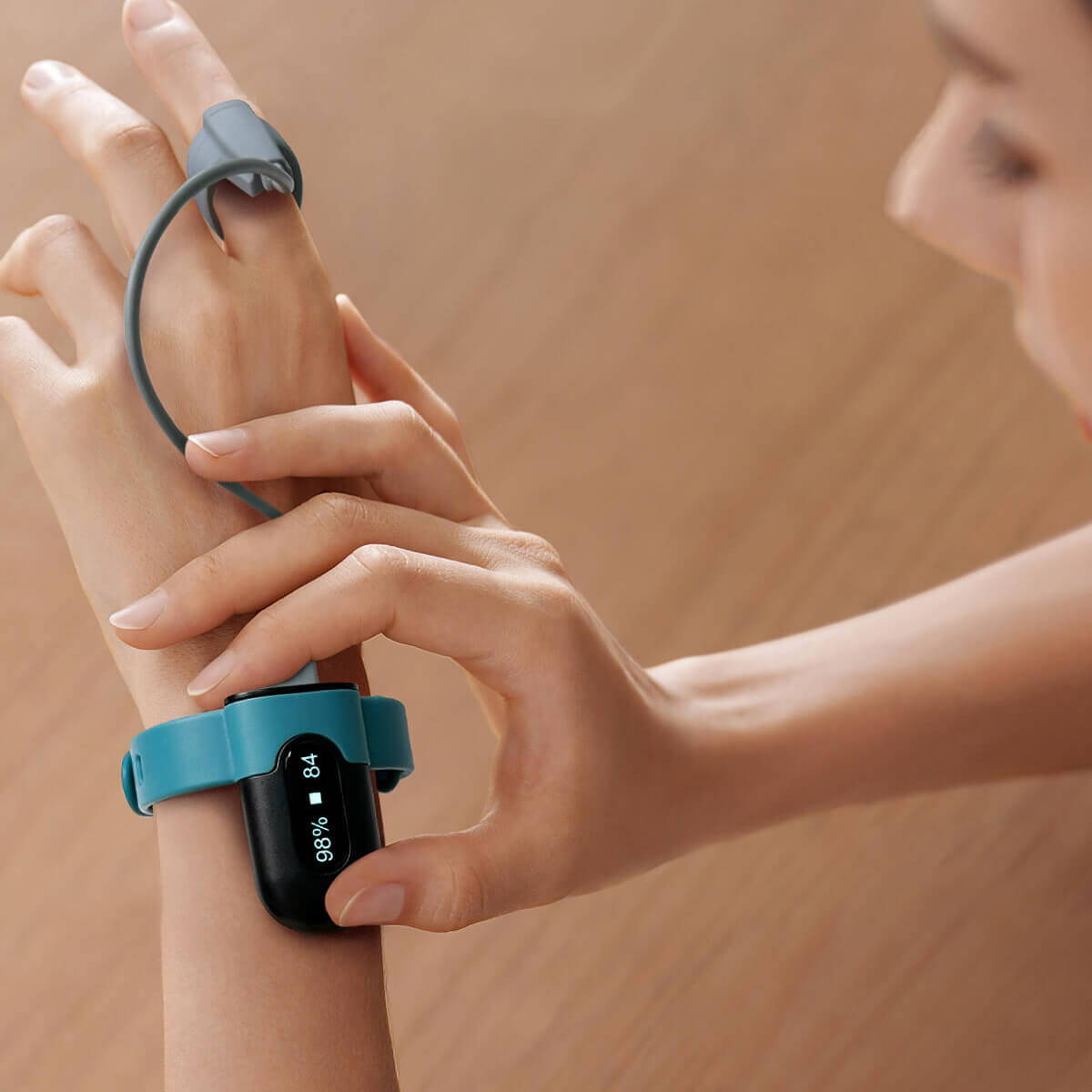 Keep your vital signs in hand
Can be viewed in real time
No subscription required, your privacy is our top priority. On the APP interface, you can see the real-time screen, record the data in detail, manage the data, and share it with your family and friends.
Climber, Aerial ropeway riders, People who have had surgery, Stressed workers, Snorers, Morning headache sufferers, Sportsmen, etc.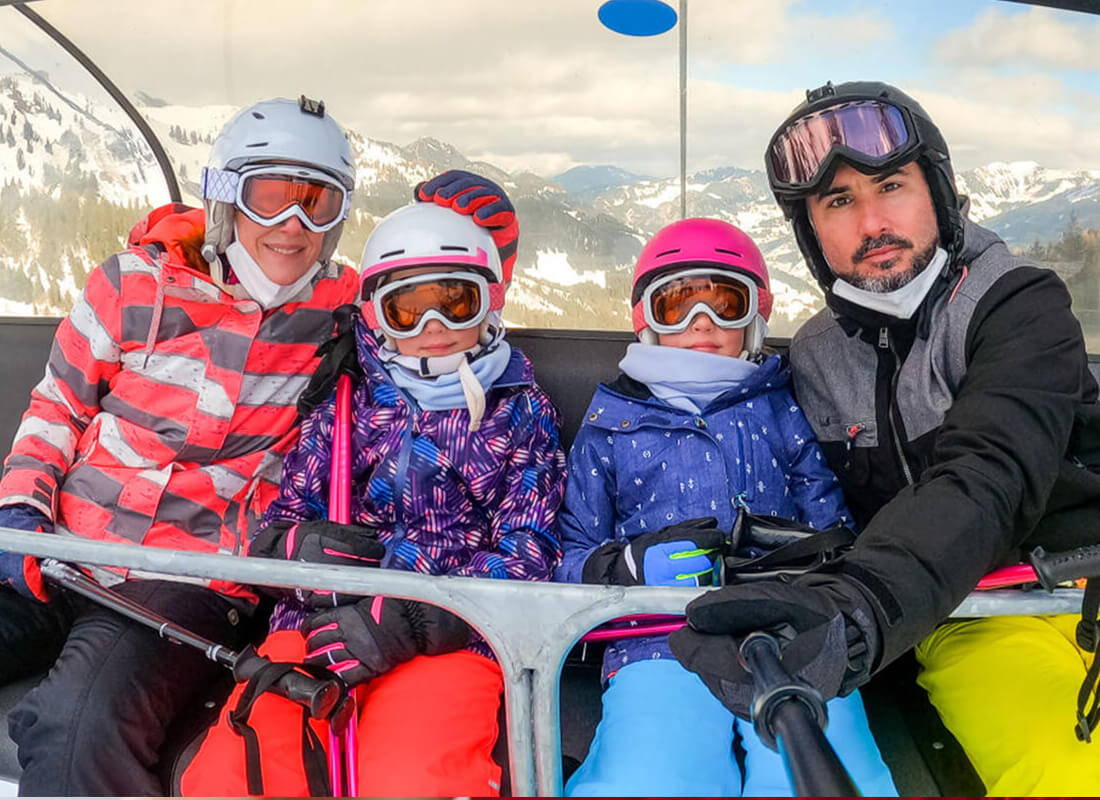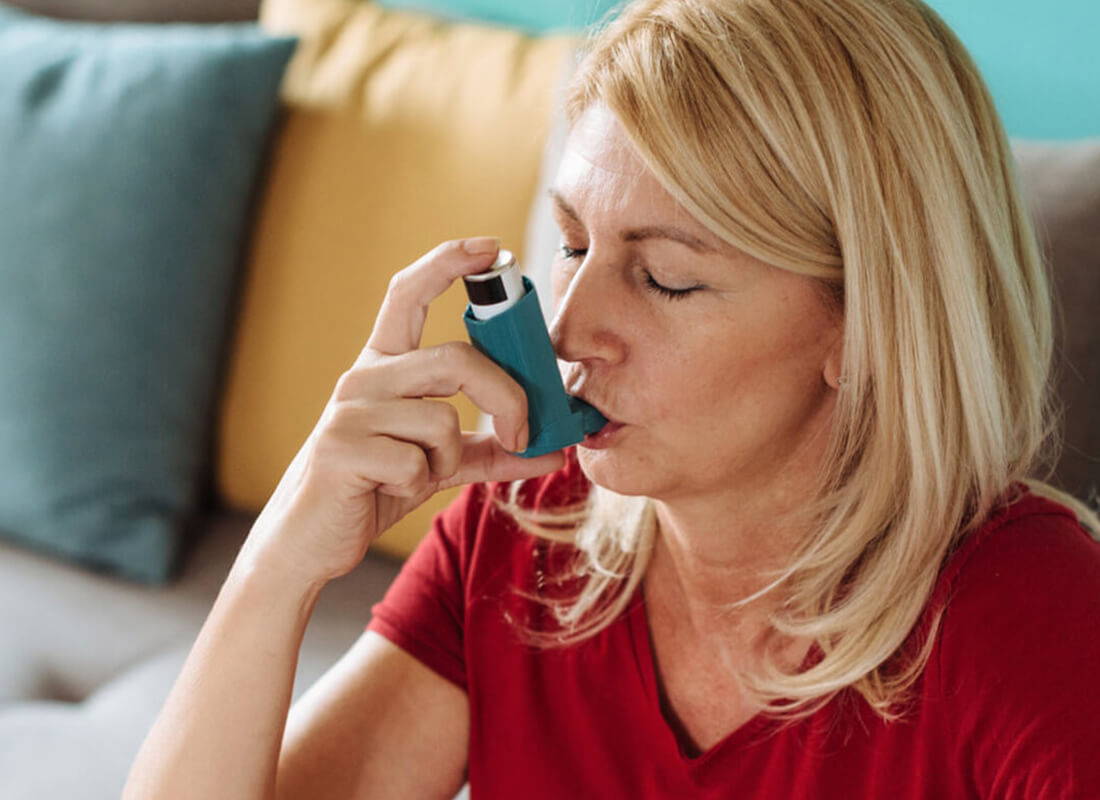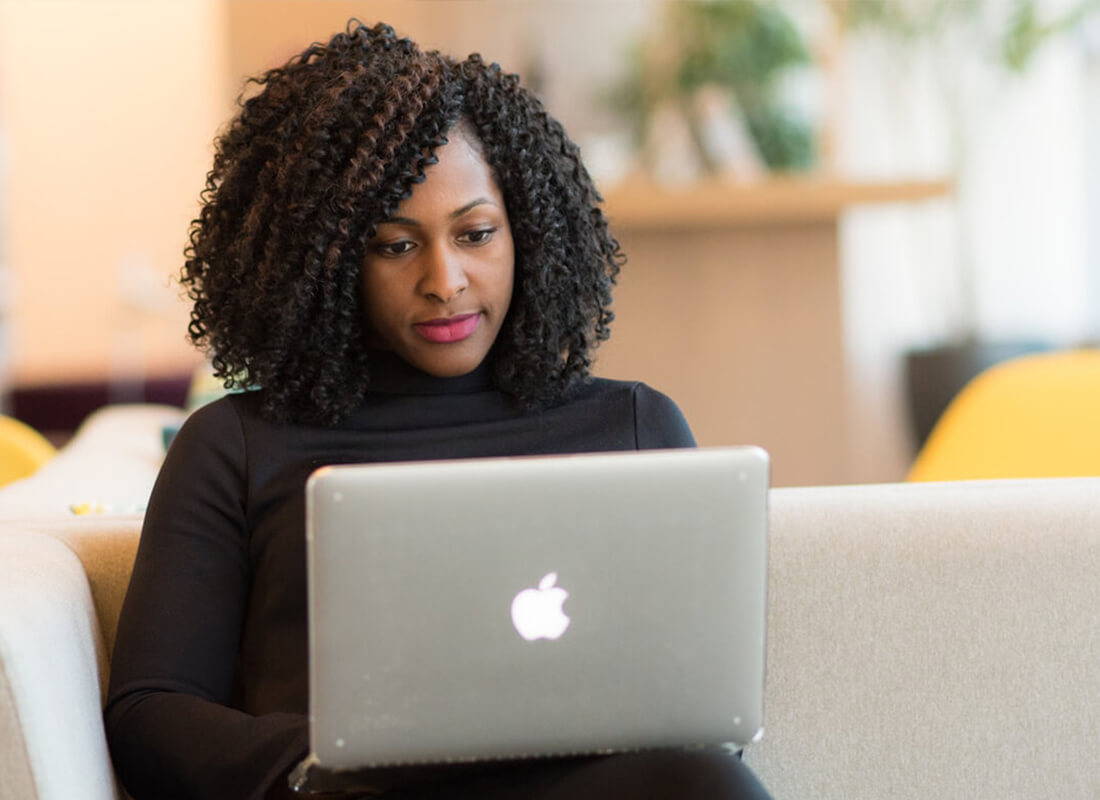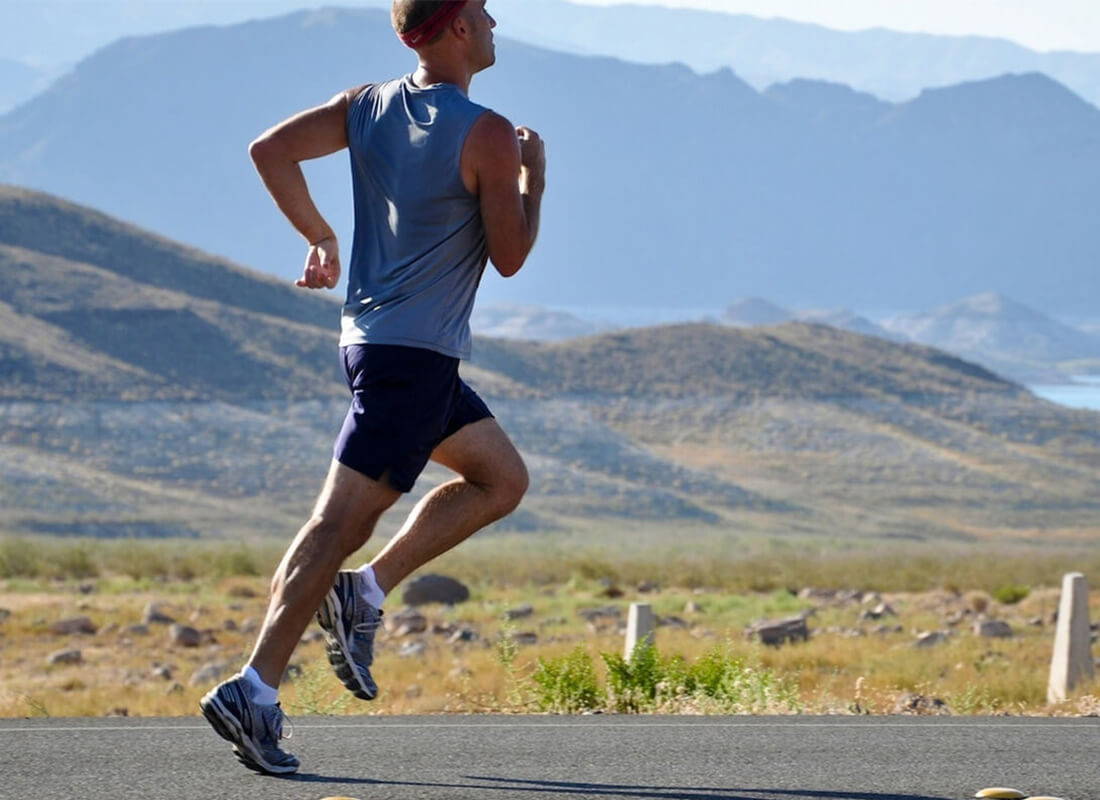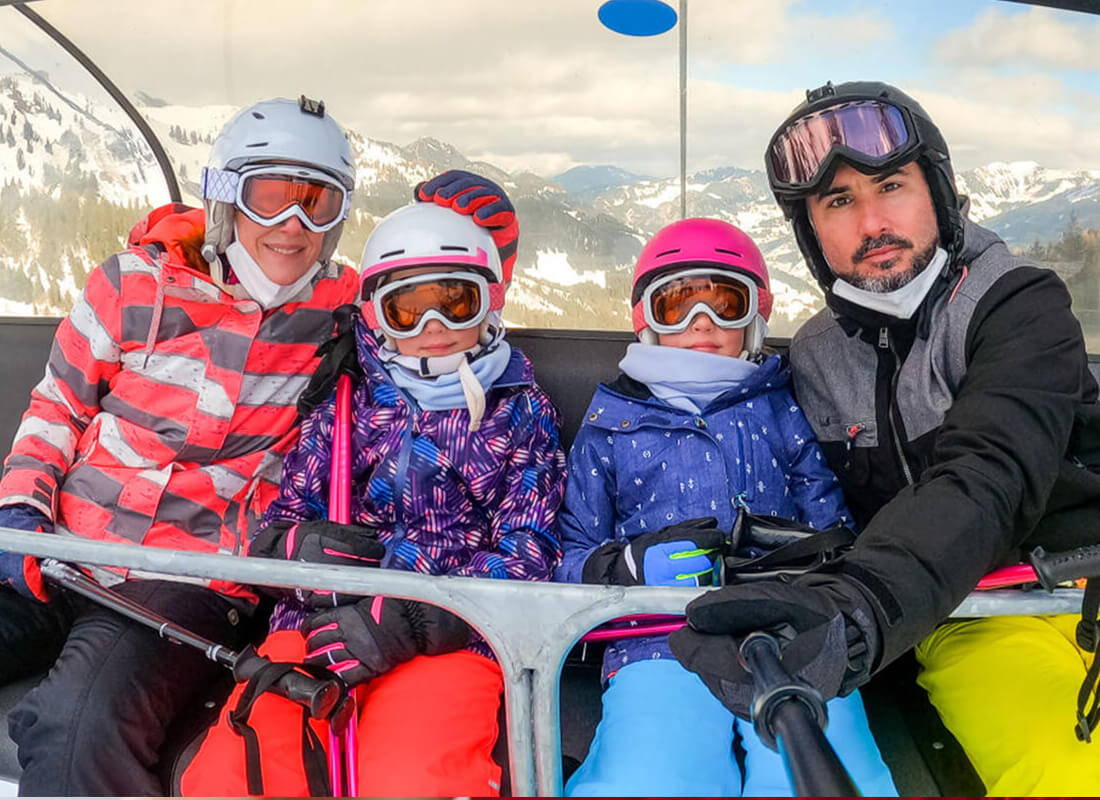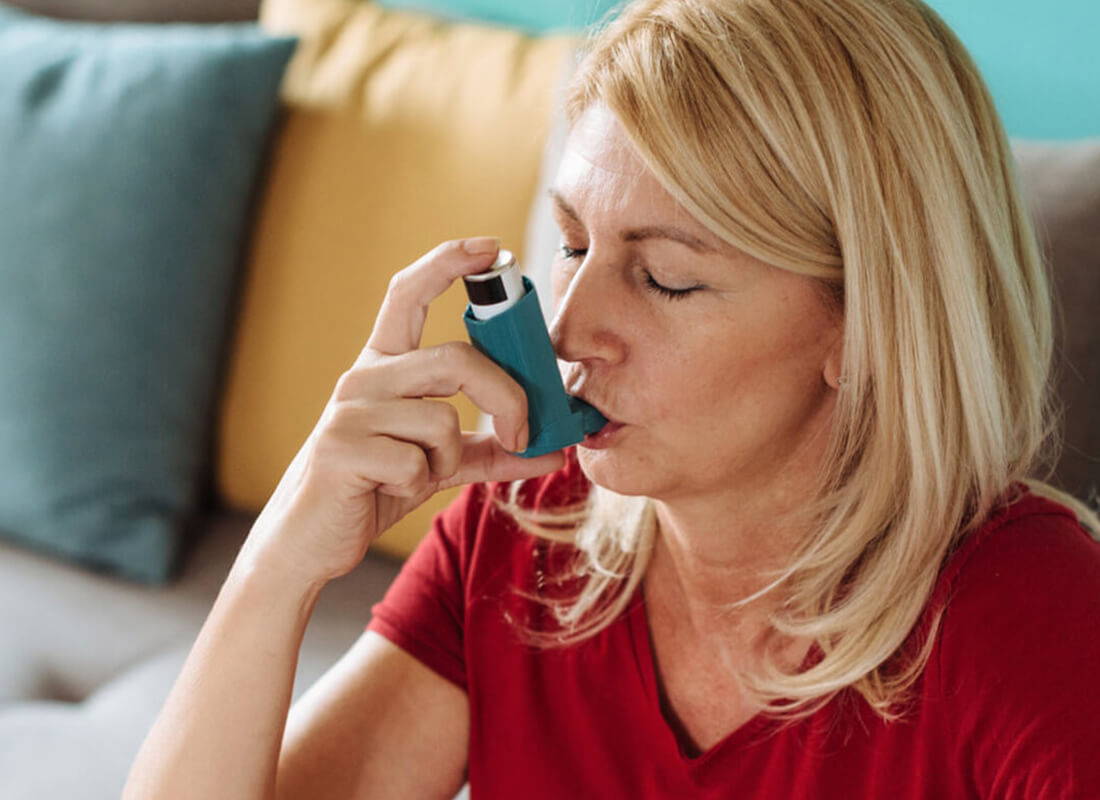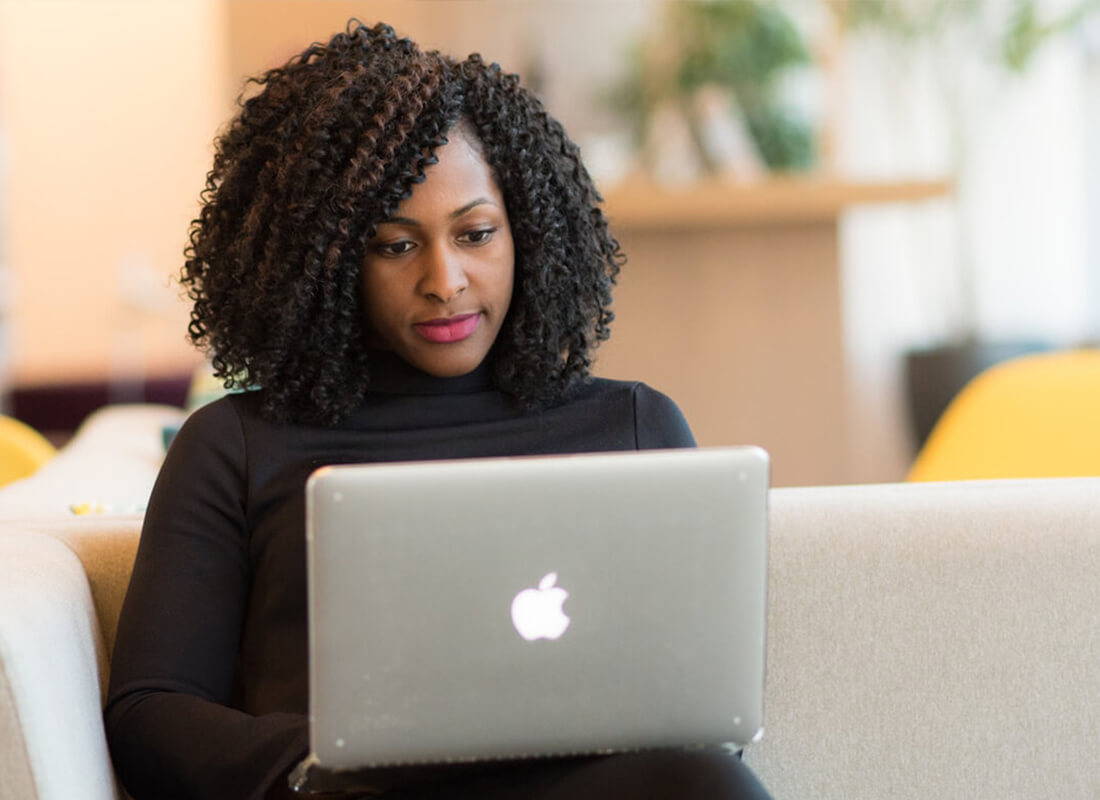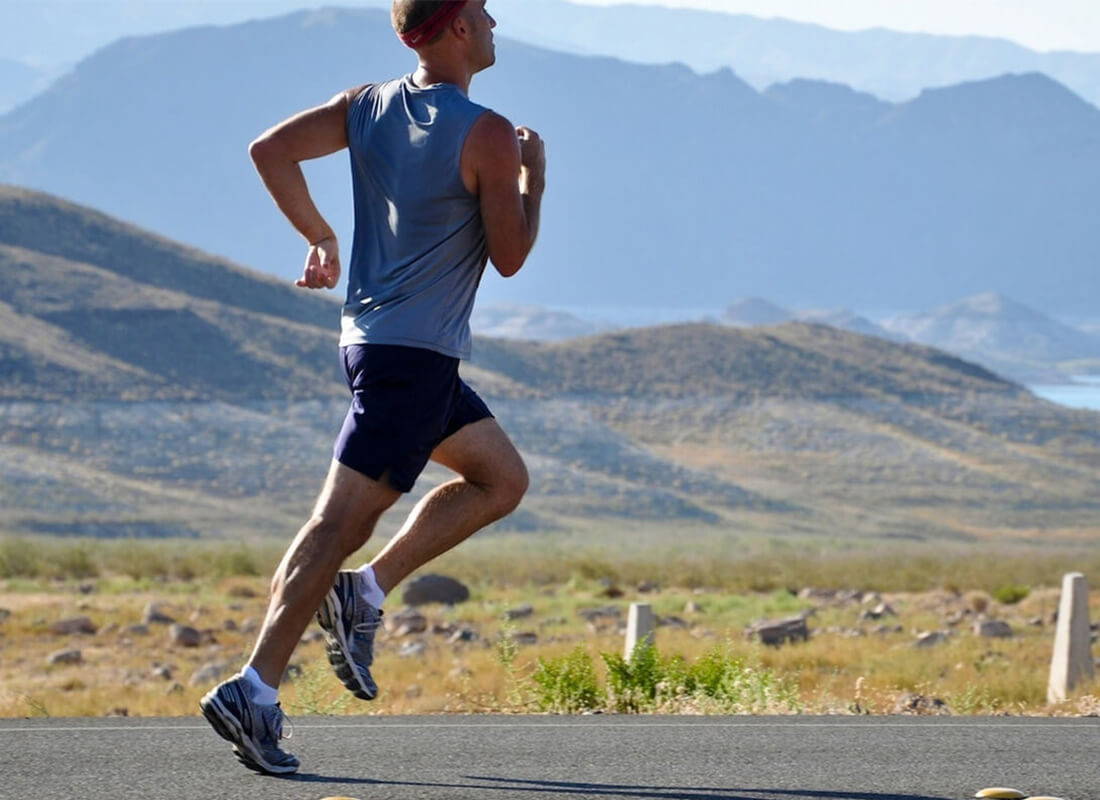 Climber, Aerial ropeway riders, People who have had surgery, Stressed workers, Snorers, Morning headache sufferers, Sportsmen, etc.
Oxygen levels, pulse rate, motion
80%-99%: ±2% 70%-79%: ±3%
±2bpm or ±2%, whichever is greater
Degree of Dust & Water Resistance
Display Interval in APP Data
3.7 Vdc, Rechargeable lithium-polymer ; 12-16 hours for typical use
4 sessions, up to 10 hours for each session
This device is for General Wellness use only and not intended for medical use.
Frequently Asked Questions
O2 Score is a measure of oxygen shortage during whole sleep. It combines frequency, duration, and depth of oxygen drops. A higher score means oxygen is richer. If it's yellow or red, please ask your doctor for advice.
Do I need to pair Bluetooth?
DO NOT PAIR in the system settings of your phone. Make sure the Bluetooth is enabled on your phone and device's battery is not out.
Why I can't connect device with App after updating iOS system software?
If you can't connect your device after updating iOS, please try the following steps:
1)In the system settings, turn off and turn on Bluetooth;
2)In the Control Center, tap the Bluetooth icon repeatedly to re-enable Bluetooth.
Turn on device, run App to connect it.
How do I track my logistics?
Copy your order number and paste your query on this website>>https://www.17track.net/en
Great tracking.
Love my new Vibeat OxyU wrist pulse Oximeter. It keeps track of my oxygen and
pulse great.
Lifesaver!
Recently I was diagnosed with sleep apnea. My doctor recommended I get one of these to be able to monitor how my machine is helping. This has been such a great tool for me. This is easy to use and has literally been a lifesaver for me.
Extremely accurate, works during heavy activity, won't fall off, comfortable
I have a need to monitor my SpO2 for health reasons, so I use a continuous monitor most of the day every day.
Pro's:
- accurate. It reads exactly the same as the expensive big machines in the pulmonary rehab, but continues to read properly further into heavy cardio exercise before getting some interrupted readings from extreme movement. Surprised it outperformed the pulmonary rehab units... but it did.
- small and light. I have others and this one is the smallest and lightest continuous monitor I own
- easy to connect to your phone and get data. It just works... nothing special to do or buttons to push, couldn't be easier. The app found the monitor and asked me for the last four digits of the s/n on the back of the monitor the first time I connected to it. after that, I just open the app on my phone and it just connects and works.
- continuous data. The fact it logs your readings so often (not like an apple watch that takes it once in a while and only when you are perfectly still) is very helpful to see exactly what makes your O2 saturation drop and for exactly how long, in real time and also historically with the app data. My doc thinks it's great I have this data for him.
- Auto turn on / off - this prevents you from putting it on and going to sleep and not realizing you forgot to turn it on, or maybe accidentally turning it off. Also, there is no on/off button to malfunction over time. I was skeptical of this at first, but it makes it foolproof and works flawlessly.
- good support. I asked the company technical questions about the data logging features and the app via email and they were quick to respond and answered thoroughly.
- comfortable - this one being fairly small helps it be less noticeable to the wearer during everyday life and while sleeping.
Cons:
- the battery seems to last all day or all night and then some, but if you are one who needs to wear it 24/7, it requires more charging sessions per day than the long battery life versions. The vast majority of people buying these will never need to wear one of these 24/7, so this is irrelevant for most... and the small size is a great tradeoff for battery life for people who just use for exercise and/or sleep monitoring.
- The cable for the finger sensor comes out right at your wrist and if you wear really low on your wrist will sometimes hit your hand if you bend it all the way back. Probably not great on that connector over time either. It's not really been an issue, but I think could be one day with heavy use.
Wearable and accurate
I checked this device at the doctor's office and found it to be accurate. It is easy and unobtrusive to wear, so you can monitor your oxygen levels and heart rate. The app was pretty easy to set up and use.